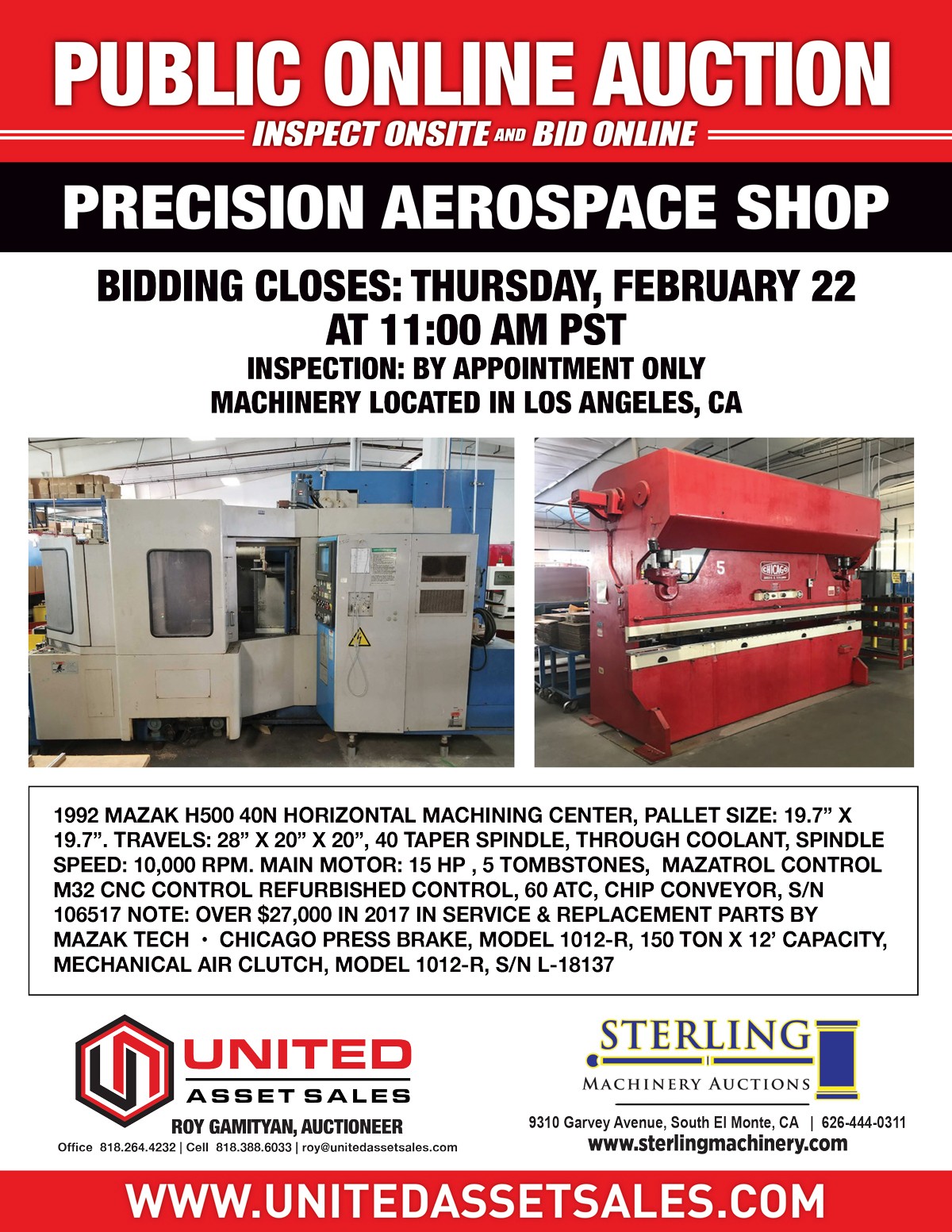 THURSDAY, FEBRUARY 22 | 11:00 AM PST
PUBLIC ONLINE AUCTION
PRECISION AEROSPACE SHOP
BIDDING CLOSES:

THURSDAY, FEBRUARY 22 AT 11:00 AM PST

 
INSPECTION: 

BY APPOINTMENT ONLY
1992 MAZAK H500 40N HORIZONTAL MACHINING CENTER, PALLET SIZE: 19.7" X 19.7". TRAVELS: 28" X 20" X 20", 40 TAPER SPINDLE, THROUGH COOLANT, SPINDLE SPEED: 10,000 RPM. MAIN MOTOR: 15 HP , 5 TOMBSTONES,  MAZATROL CONTROL M32 CNC CONTROL REFURBISHED CONTROL, 60 ATC, CHIP CONVEYOR, S/N 106517 NOTE: OVER $27,000 IN 2017 IN SERVICE & REPLACEMENT PARTS BY MAZAK TECH
CHICAGO PRESS BRAKE, MODEL 1012-R, 150 TON X 12' CAPACITY, MECHANICAL AIR CLUTCH, MODEL 1012-R, S/N L-18137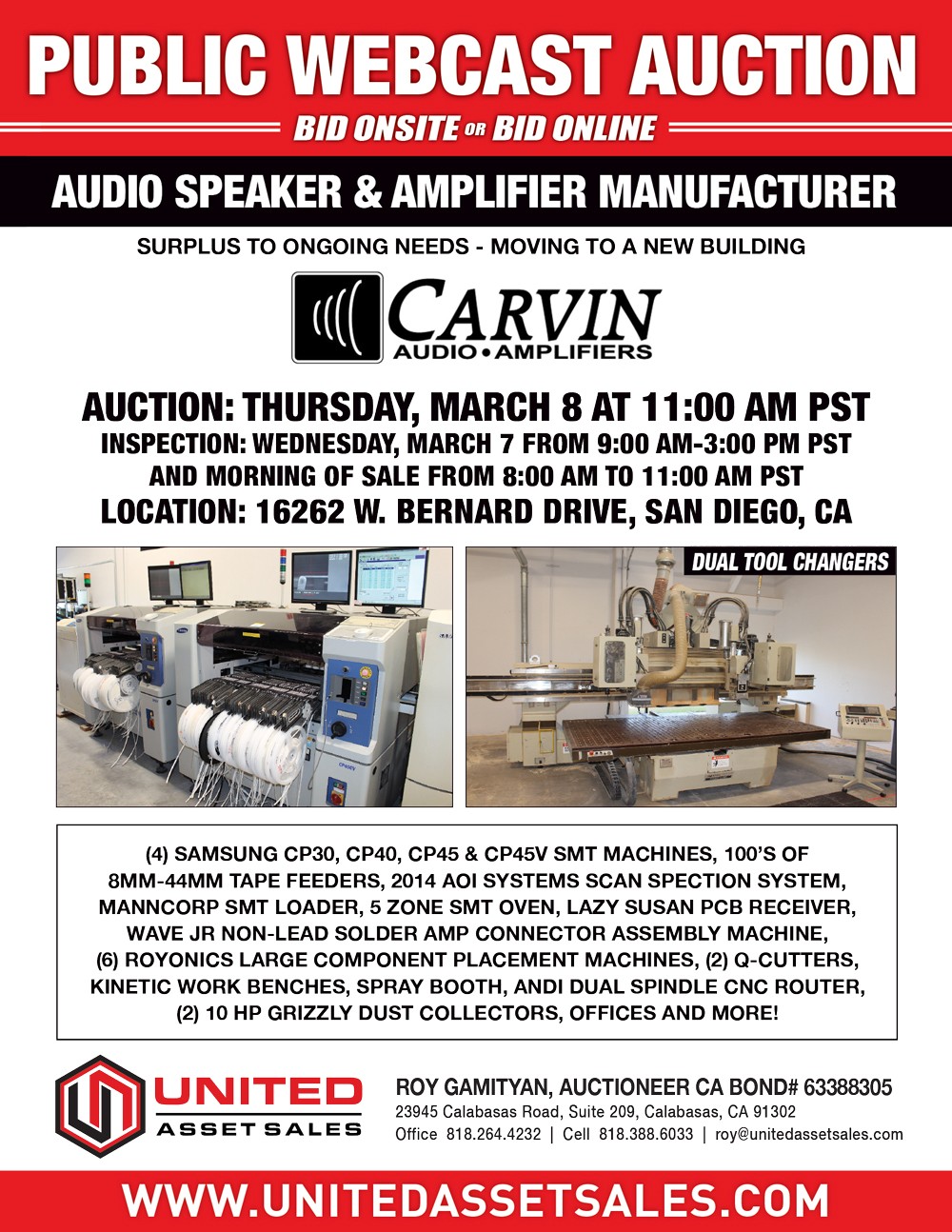 THURSDAY, MARCH 8 | 11:00 AM PST
PUBLIC ONSITE WEBCAST AUCTION
Surplus to Ongoing Needs - Moving to a New Building
AUDIO SPEAKER & AMPLIFIER MANUFACTURER
INSPECTION:

WEDNESDAY, MARCH 7, FROM 9:00 AM-3:00 PM PST AND MORNING OF SALE FROM 8:00 AM TO 11:00 AM PST
LOCATION:

16262 W. BERNARD DRIVE, SAN DIEGO, CA
(4) SAMSUNG CP30, CP40, CP45 & CP45V SMT MACHINES, 100'S OF 8MM-44MM TAPE FEEDERS, 2014 AOI SYSTEMS SCAN SPECTION SYSTEM, MANNCORP SMT LOADER, 5 ZONE SMT OVEN, LAZY SUSAN PCB RECEIVER, WAVE JR NON-LEAD SOLDER AMP CONNECTOR ASSEMBLY MACHINE, (6) ROYONICS LARGE COMPONENT PLACEMENT MACHINES, (2) Q-CUTTERS, KINETIC WORK BENCHES, SPRAY BOOTH, ANDI DUAL SPINDLE CNC ROUTER, (2) 10 HP GRIZZLY DUST COLLECTORS, OFFICES AND MORE!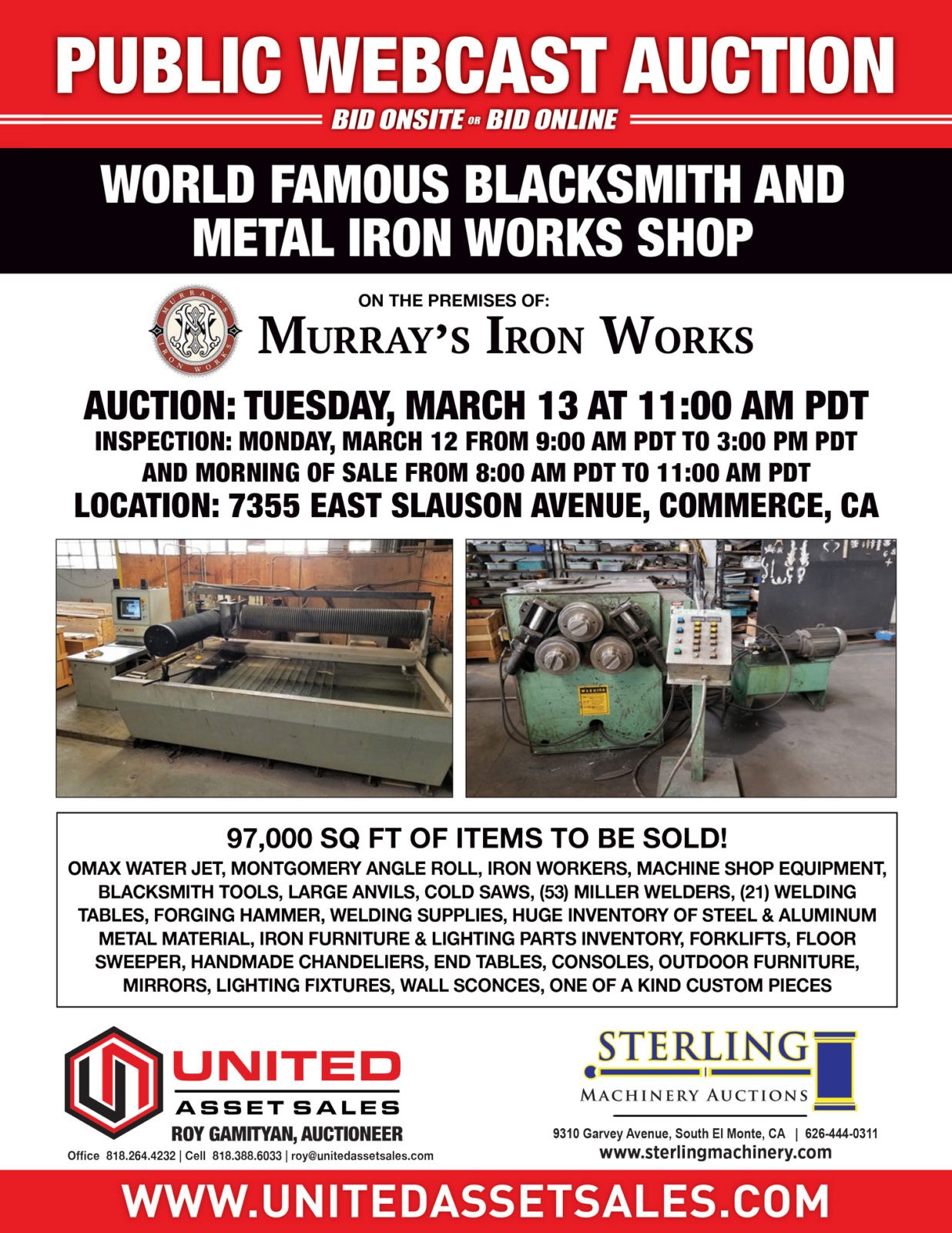 TUESDAY, MARCH 13 | 11:00 AM PDT
PUBLIC ONSITE WEBCAST AUCTION
MURRAY'S IRON WORKS
WORLD FAMOUS BLACKSMITH AND METAL IRON WORKS SHOP
INSPECTION: MONDAY, MARCH 12 FROM 8:00 AM PDT - 3:00 PM PDT AND

MORNING OF SALE FROM 8:00 AM TO 11:00 AM PDT
LOCATION:

7355 EAST SLAUSON AVENUE, COMMERCE, CA
97,000 SQ FT OF ITEMS TO BE SOLD! OMAX WATER JET, MONTGOMERY BENDING ROLL, IRON WORKERS, MACHINE SHOP EQUIPMENT, BLACKSMITH TOOLS, LARGE ANVILS, COLD SAWS, (53) MILLER WELDERS, (21) WELDING TABLES, FORGING HAMMER, HUGE INVENTORY OF STEEL & ALUMINUM METAL MATERIAL, IRON FURNITURE & LIGHTING PARTS INVENTORY, FORKLIFTS AND RELATED FINISHED INVENTORY
TUESDAY, MARCH 20 | 10:00 AM PDT
PUBLIC ONSITE WEBCAST AUCTION
SURPLUS TO ONGOING NEEDS OF NANO PRECISION PRODUCTS 
INSPECTION:

MONDAY, MARCH 19 FROM 9:00 AM TO 3:00 PM AND MORNING OF SALE FROM 8:00 AM TO 10:00 AM PDT OR BY APPOINTMENT
LOCATION:

411 CORAL CIRCLE, EL SEGUNDO, CA 90245
STATE OF THE ART PRECISION HIGH SPEED STAMPING, 5 AXIS HIGH SPEED MACHINING, WIRE & SINKER EDM, TOOLROOM, OPTICAL METROLOGY, INSPECTION, LASER SINGULATION, ULTRA-SONIC CLEANING, MICROSCOPES, CLEANROOMS, ELECTRONIC TESTING, INFRARED HEATING FURNACE, TITANIUM COIL STOCK, DIE HANDLING, FORKLIFT, AIR COMPRESSORS & CORPORATE OFFICES
UNITED ASSET SALES IS A FULL SERVICE, NATIONWIDE LIQUIDATION AUCTION AND ASSET ADVISORY COMPANY. FOUNDED BY ROY GAMITYAN, WE OFFER OVER 30 YEARS OF EXPERTISE IN THE REALM OF INDUSTRIAL MACHINERY AUCTION SALES ACROSS ALL MANUFACTURING SECTORS. WE OFFER OUTRIGHT CASH BUYOUTS, MINIMUM GUARANTEE AND COMMISSION PROPOSALS FOR YOUR CONSIDERATION.
CALL US TODAY FOR A FREE CONSULTATION AND SITE VISIT!