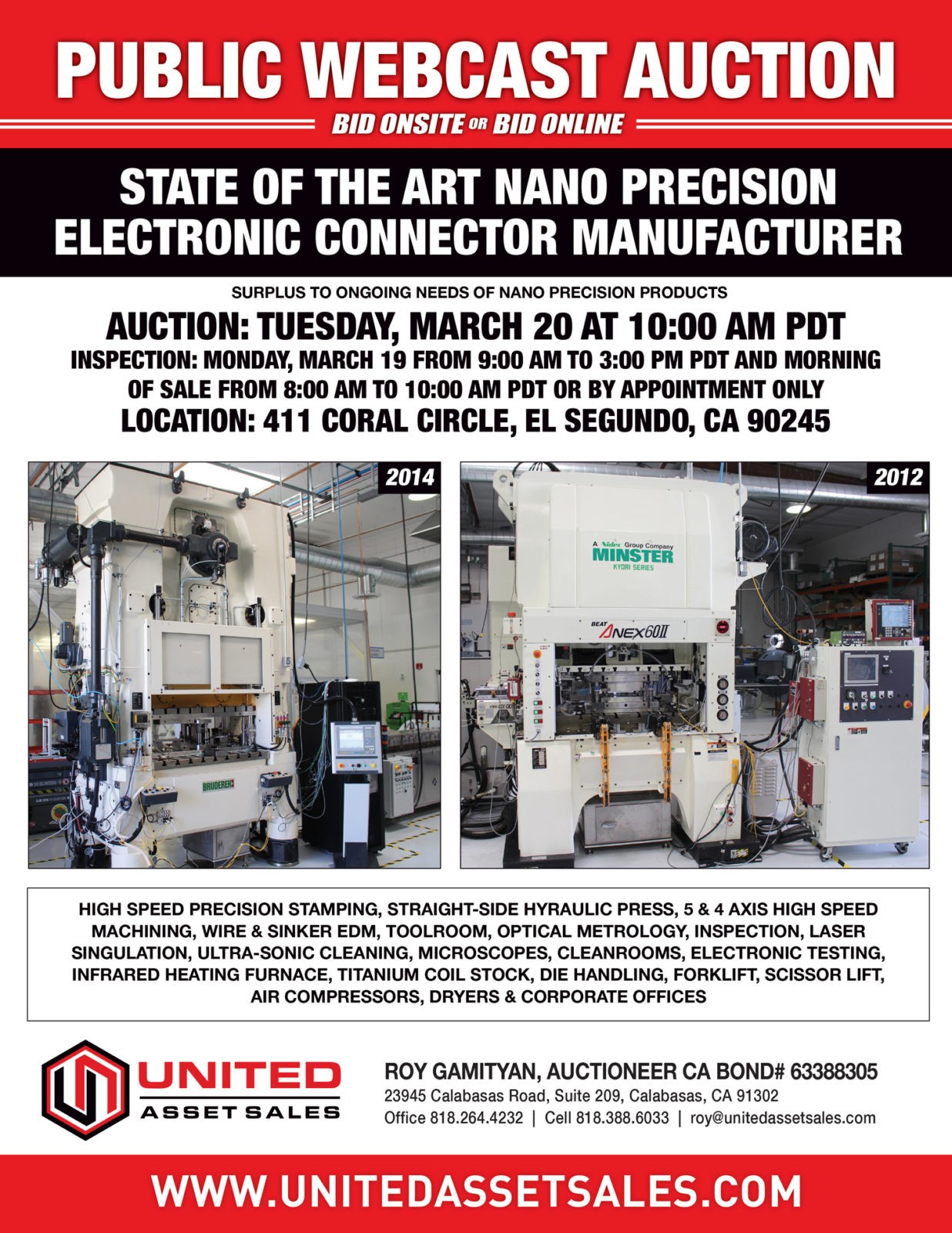 TUESDAY, MARCH 20 | 10:00 AM PDT
PUBLIC ONSITE WEBCAST AUCTION
SURPLUS TO ONGOING NEEDS OF NANO PRECISION PRODUCTS 
INSPECTION:

MONDAY, MARCH 19 FROM 9:00 AM TO 3:00 PM AND MORNING OF SALE FROM 8:00 AM TO 10:00 AM PDT OR BY APPOINTMENT
LOCATION:

411 CORAL CIRCLE, EL SEGUNDO, CA 90245
STATE OF THE ART PRECISION HIGH SPEED STAMPING, 5 AXIS HIGH SPEED MACHINING, WIRE & SINKER EDM, TOOLROOM, OPTICAL METROLOGY, INSPECTION, LASER SINGULATION, ULTRA-SONIC CLEANING, MICROSCOPES, CLEANROOMS, ELECTRONIC TESTING, INFRARED HEATING FURNACE, TITANIUM COIL STOCK, DIE HANDLING, FORKLIFT, AIR COMPRESSORS & CORPORATE OFFICES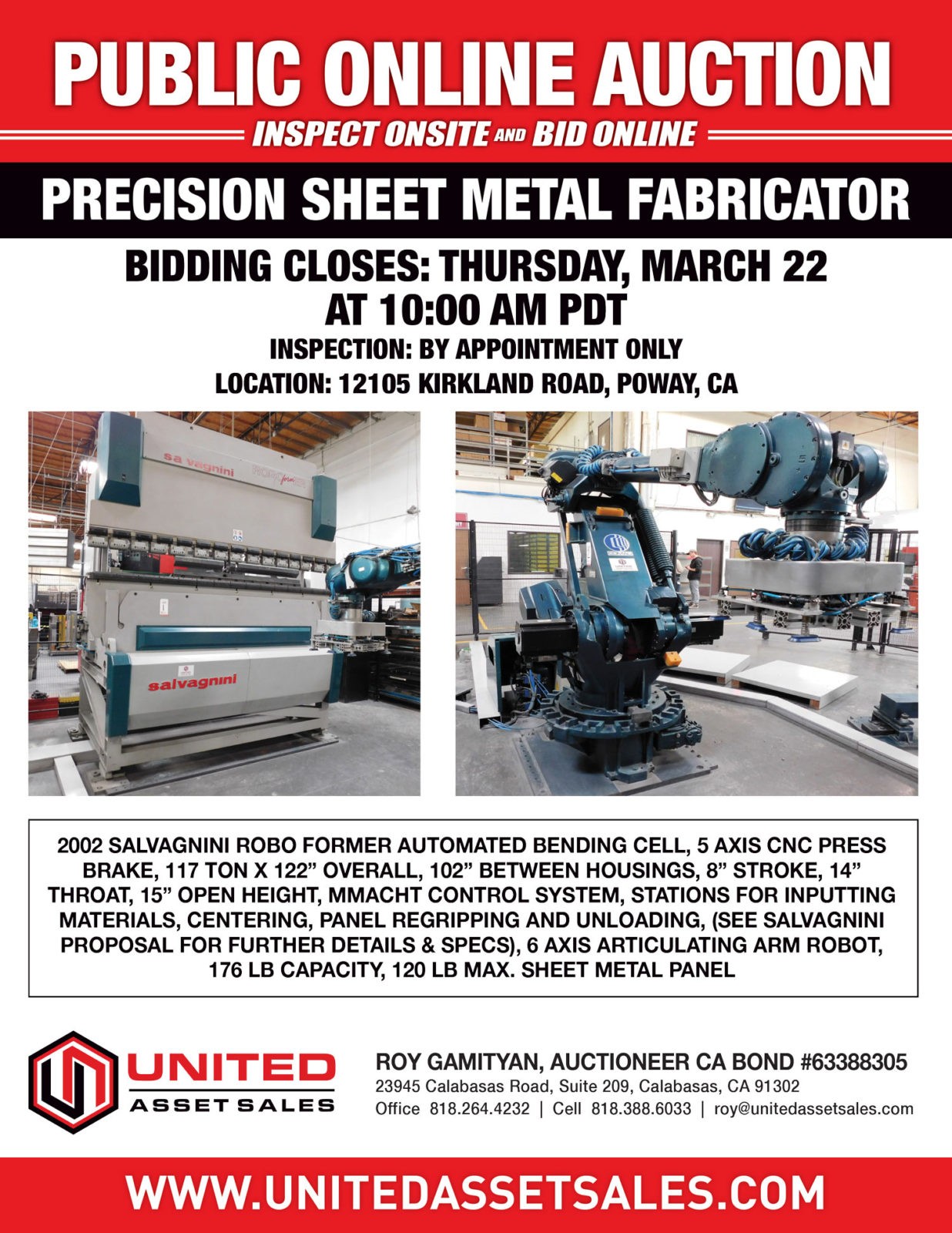 ONLINE BIDDING CLOSES: THURSDAY, MARCH 22 | 10:00 AM PDT
PUBLIC ONLINE AUCTION
PRECISION SHEET METAL FABRICATOR
ONLINE BIDDING CLOSES:

THURSDAY, MARCH 22, 10:00 AM PDT
ONSITE INSPECTION:

BY APPOINTMENT ONLY
LOCATION: 

12105 KIRKLAND ROAD, POWAY, CA
2002 SALVAGNINI ROBO FORMER AUTOMATED BENDING CELL, 5 AXIS CNC PRESS BRAKE, 117 TON X 122" OVERALL, 102" BETWEEN HOUSINGS, 8" STROKE, 14" THROAT, 15" OPEN HEIGHT, MMACHT CONTROL SYSTEM, STATIONS FOR INPUTTING MATERIALS, CENTERING, PANEL REGRIPPING AND UNLOADING, (SEE SALVAGNINI PROPOSAL FOR FURTHER DETAILS & SPECS), 6 AXIS ARTICULATING ARM ROBOT, 176 LB CAPACITY, 120 LB MAX. SHEET METAL PANEL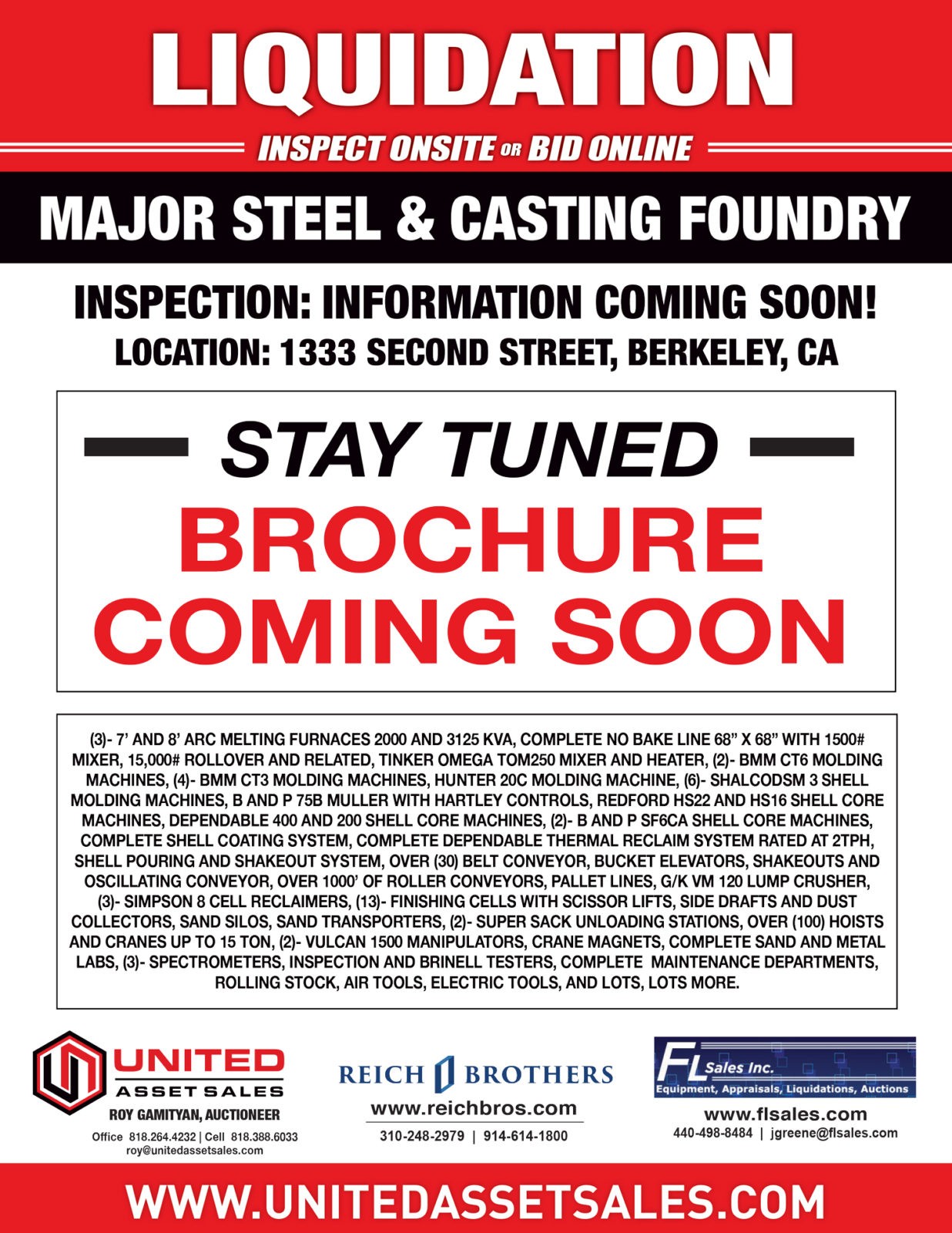 MAJOR STEEL AND CASTING FOUNDRY
INSPECTION:

CHECK BACK FOR UPDATED INFORMATION
LOCATION:

1333 SECOND STREET, BERKELEY, CA
(3)- 7' AND 8' ARC MELTING FURNACES 2000 AND 3125 KVA, COMPLETE NO BAKE LINE 68" X 68" WITH 1500# MIXER, 15,000# ROLLOVER AND RELATED, TINKER OMEGA TOM250 MIXER AND HEATER, (2)- BMM CT6 MOLDING MACHINES, (4)- BMM CT3 MOLDING MACHINES, HUNTER 20C MOLDING MACHINE, (6)- SHALCODSM 3 SHELL MOLDING MACHINES, B AND P 75B MULLER WITH HARTLEY CONTROLS, REDFORD HS22 AND HS16 SHELL CORE MACHINES, DEPENDABLE 400 AND 200 SHELL CORE MACHINES, (2)- B AND P SF6CA SHELL CORE MACHINES, COMPLETE SHELL COATING SYSTEM, COMPLETE DEPENDABLE THERMAL RECLAIM SYSTEM RATED AT 2TPH, SHELL POURING AND SHAKEOUT SYSTEM, OVER (30) BELT CONVEYOR, BUCKET ELEVATORS, SHAKEOUTS AND OSCILLATING CONVEYOR, OVER 1000' OF ROLLER CONVEYORS, PALLET LINES, G/K VM 120 LUMP CRUSHER, (3)- SIMPSON 8 CELL RECLAIMERS, (13)- FINISHING CELLS WITH SCISSOR LIFTS, SIDE DRAFTS AND DUST COLLECTORS, SAND SILOS, SAND TRANSPORTERS, (2)- SUPER SACK UNLOADING STATIONS, OVER (100) HOISTS AND CRANES UP TO 15 TON, (2)- VULCAN 1500 MANIPULATORS, CRANE MAGNETS, COMPLETE SAND AND METAL LABS, (3)- SPECTROMETERS, INSPECTION AND BRINELL TESTERS, (7)- TUMBLAST AND TABLE TYPE CLEANING MACHINES, (11)- CAR BOTTOM AND BOX TYPE HEAT TREAT FURNACES, PRESSES,( 13)- DOUBLE END GRINDERS,( 11)- FOX SINGLE END SNAG GRINDERS, OVER (30) WELDERS,(4)- WELDING CELLS WITH SAWS AND THERMAL DYNAMICS PAK45 PLASMA UNITS, OVER (14)- AIR COMPRESSORS AND DRYERS UP TO 150 HP, WOOD CHIPPING SYSTEM, OVER (25)- DUST COLLECTORS, 20,000 AND 8,000 AMP MAGNAFLUX UNITS, (4)- KRH MAGNAFLUX UNITS, COMPLETE WOOD AND METAL PATTERN SHOP, (3)- COMPLETE  MAINTENANCE DEPARTMENTS, ROLLING STOCK, AIR TOOLS, ELECTRIC TOOLS, AND LOTS, LOTS MORE.
UNITED ASSET SALES IS A FULL SERVICE, NATIONWIDE LIQUIDATION AUCTION AND ASSET ADVISORY COMPANY. FOUNDED BY ROY GAMITYAN, WE OFFER OVER 30 YEARS OF EXPERTISE IN THE REALM OF INDUSTRIAL MACHINERY AUCTION SALES ACROSS ALL MANUFACTURING SECTORS. WE OFFER OUTRIGHT CASH BUYOUTS, MINIMUM GUARANTEE AND COMMISSION PROPOSALS FOR YOUR CONSIDERATION.
CALL US TODAY FOR A FREE CONSULTATION AND SITE VISIT!