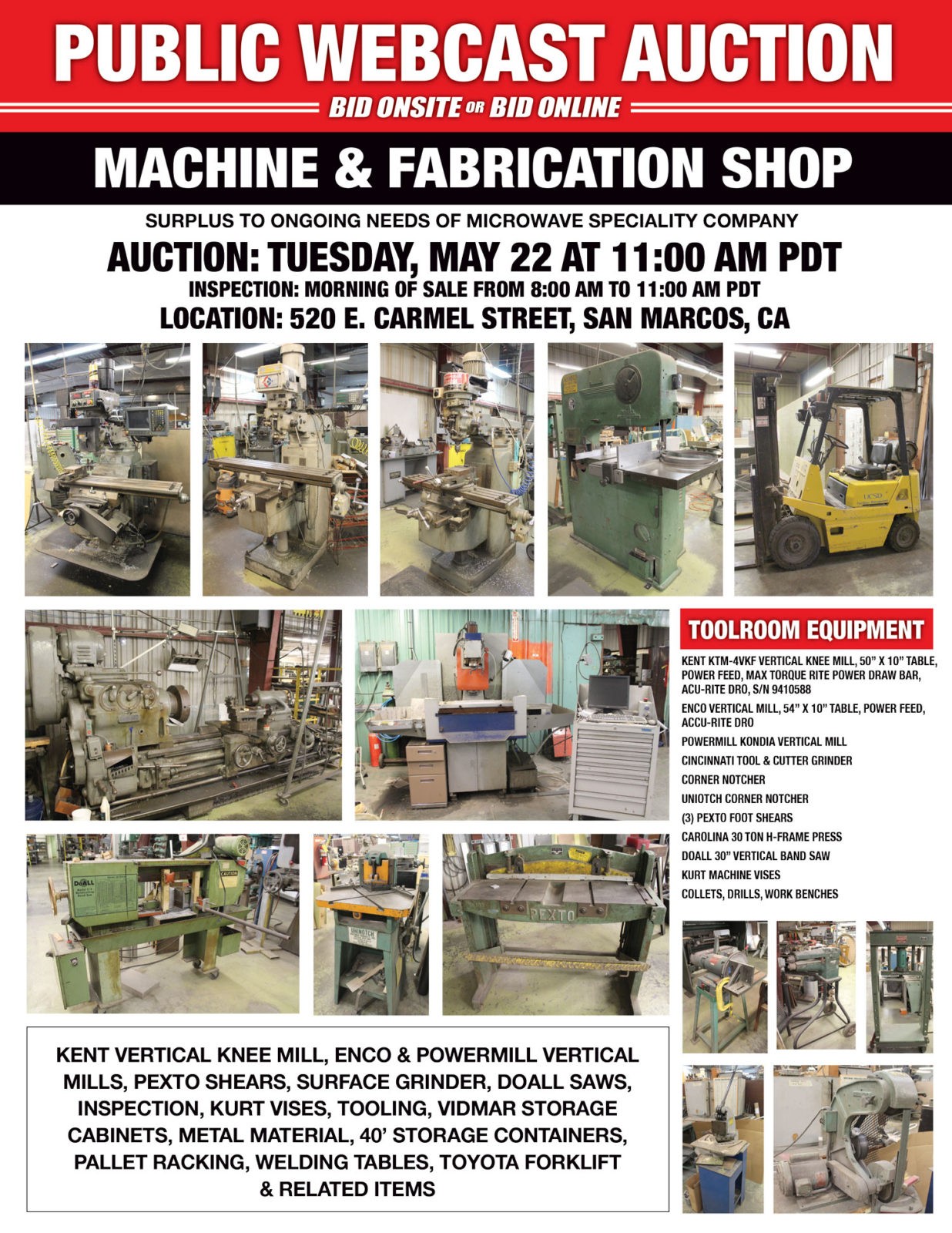 TUESDAY, MAY 22 | 11:00 AM PDT
PUBLIC ONSITE WEBCAST AUCTION
SURPLUS TO ONGOING NEEDS OF MICROWAVE SPECIALTY COMPANY
MACHINE & FABRICATION SHOP
INSPECTION:

MORNING OF SALE FROM 8:00 AM TO 11:00 AM PDT
LOCATION: 520 E. CARMEL STREET, SAN MARCOS, CA
KENT VERTICAL KNEE MILL, ENCO & POWERMILL VERTICAL MILLS, PEXTO SHEARS, SURFACE GRINDER, DOALL SAWS, INSPECTION, KURT VISES, TOOLING, VIDMAR STORAGE CABINETS,  METAL MATERIAL, 40' STORAGE CONTAINERS, PALLET RACKING, WELDING TABLES, TOYOTA FORKLIFT & RELATED ITEMS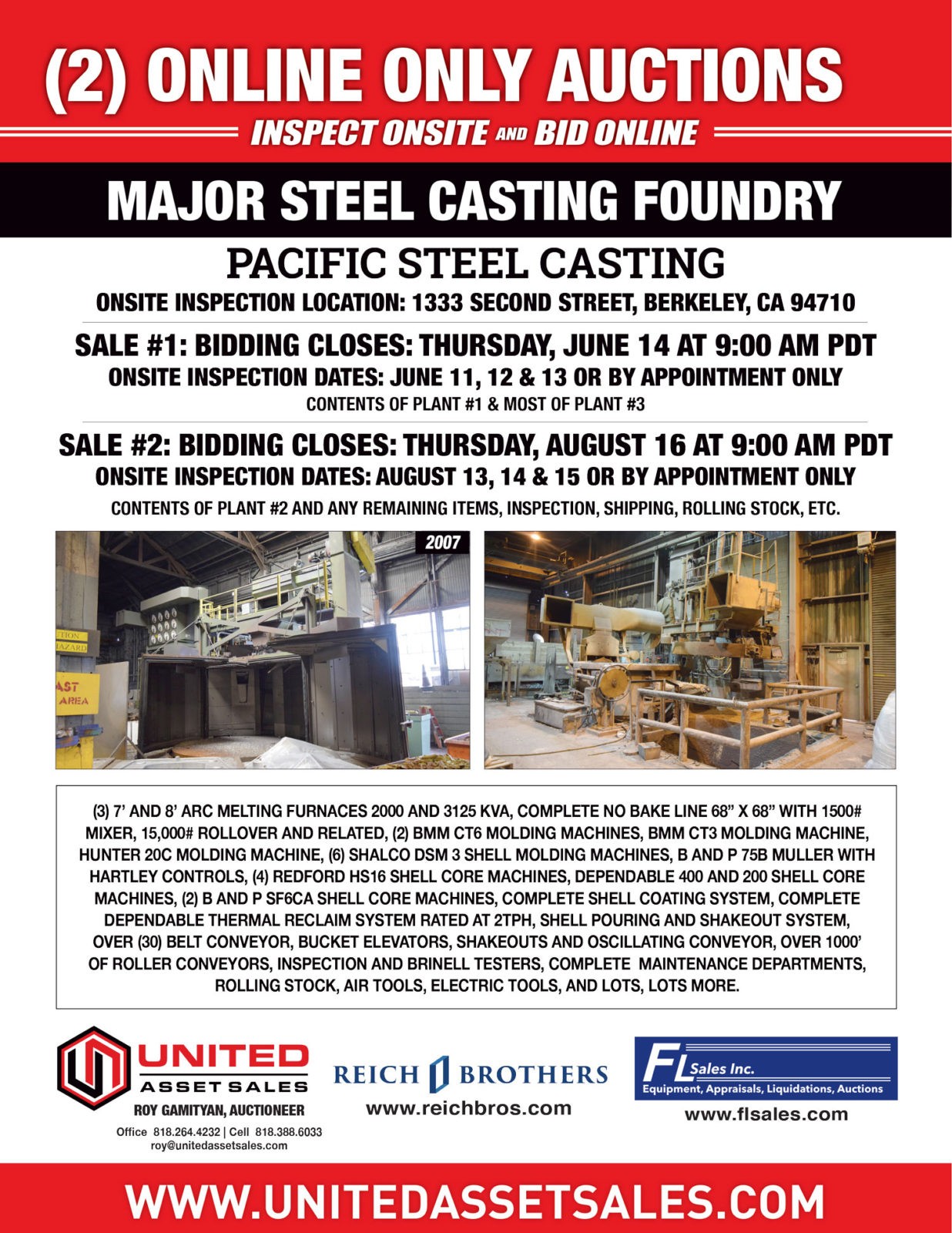 MAJOR STEEL CASTING FOUNDRY
PACIFIC STEEL CASTING
ONSITE INSPECTION LOCATION:

1333 SECOND STREET, BERKELEY, CA
SALE #1:

CONTENTS OF PLANT #1 & MOST OF PLANT #3


BIDDING CLOSES:

THURSDAY, JUNE 14 AT 9:00 AM PDT


ONSITE INSPECTION DATES:

JUNE 11, 12 & 13
SALE #2:

CONTENTS OF PLANT #2 AND ANY REMAINING ITEMS, INSPECTION, SHIPPING, ROLLING STOCK, ETC.


BIDDING CLOSES:

THURSDAY, AUGUST 16 AT 9:00 AM PDT


ONSITE INSPECTION DATES:

AUGUST 13, 14 & 15
(3) 7' AND 8' ARC MELTING FURNACES 2000 AND 3125 KVA, COMPLETE NO BAKE LINE 68" X 68" WITH 1500# MIXER, 15,000# ROLLOVER AND RELATED, (2) BMM CT6 MOLDING MACHINES, BMM CT3 MOLDING MACHINE, HUNTER 20C MOLDING MACHINE, (6) SHALCO DSM 3 SHELL MOLDING MACHINES, B AND P 75B MULLER WITH HARTLEY CONTROLS, (4) REDFORD HS16 SHELL CORE MACHINES, DEPENDABLE 400 AND 200 SHELL CORE MACHINES, (2) B AND P SF6CA SHELL CORE MACHINES, COMPLETE SHELL COATING SYSTEM, COMPLETE DEPENDABLE THERMAL RECLAIM SYSTEM RATED AT 2TPH, SHELL POURING AND SHAKEOUT SYSTEM, OVER (30) BELT CONVEYOR, BUCKET ELEVATORS, SHAKEOUTS AND OSCILLATING CONVEYOR, OVER 1000' OF ROLLER CONVEYORS, INSPECTION AND BRINELL TESTERS, COMPLETE  MAINTENANCE DEPARTMENTS, ROLLING STOCK, AIR TOOLS, ELECTRIC TOOLS, AND LOTS, LOTS MORE.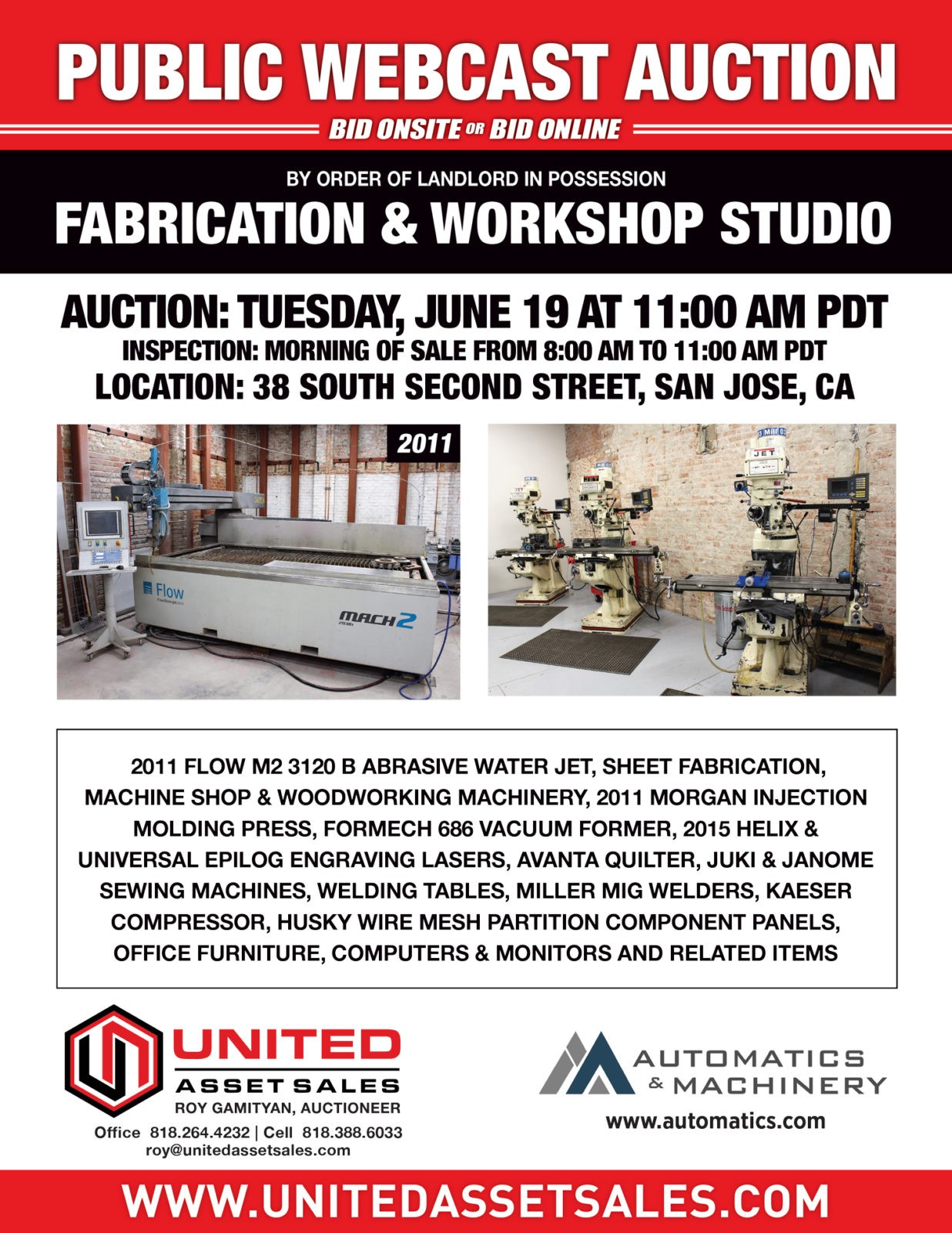 TUESDAY, JUNE 19 | 11:00 AM PDT
PUBLIC ONSITE WEBCAST AUCTION
BY ORDER OF LANDLORD IN POSSESSION
FABRICATION & WORKSHOP STUDIO
INSPECTION:

MORNING OF SALE FROM 8:00 AM TO 11:00 AM PDT
LOCATION:

38 SOUTH SECOND STREET, SAN JOSE, CA
2011 FLOW M2 3120 B ABRASIVE WATER JET, SHEET FABRICATION, MACHINE SHOP & WOOD WORKING MACHINERY, 2011 MORGAN INJECTION MOLDING PRESS, FORMECH 686 VACUUM FORMER, 2015 HELIX & UNIVERSAL EPILOG ENGRAVING LASERS, AVANTA QUILTER, JUKI & JANOME SEWING MACHINES, WELDING TABLES, MILLER MIG WELDERS, KAESER COMPRESSOR, HUSKY WIRE MESH PARTITION COMPONENT PANELS, OFFICE FURNITURE, COMPUTERS & MONITORS AND RELATED ITEMS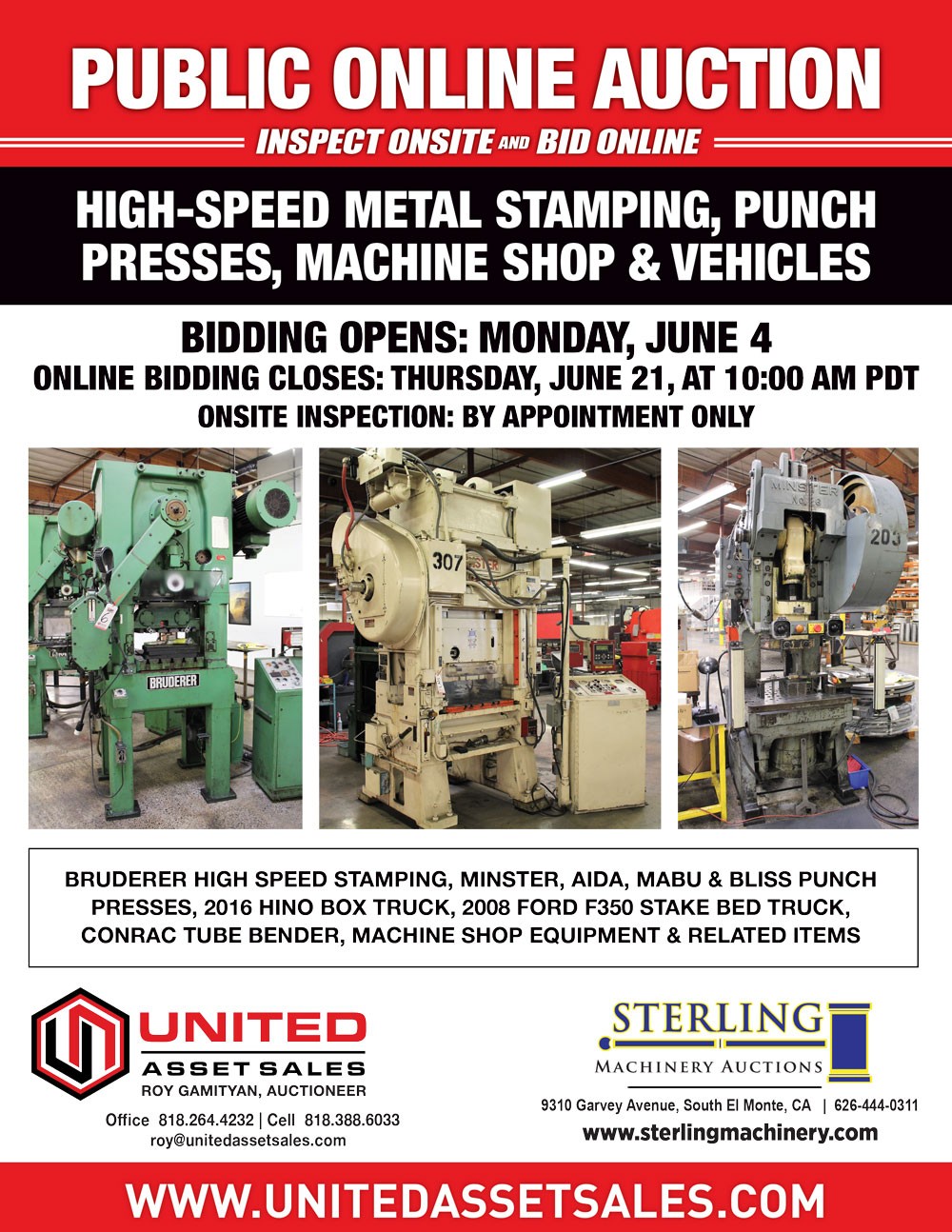 THURSDAY, JUNE 21 | 10:00 AM PDT
PUBLIC ONLINE AUCTION
HIGH-SPEED METAL STAMPING, PUNCH PRESSES, MACHINE SHOP & VEHICLES
BIDDING OPENS:

MONDAY, JUNE 4
BIDDING CLOSES: 

THURSDAY, JUNE 21 AT 10:00 AM PDT

 
INSPECTION: 

BY APPOINTMENT ONLY
LOCATION: 12700 WESTERN AVENUE, GARDEN GROVE, CA
BRUDERER HIGH-SPEED STAMPING, MINSTER, AIDA, MABU & BLISS PUNCH PRESSES, 2016 HINO BOX TRUCK, 2008 FORD F350 STAKE BED TRUCK, CONRAC TUBE BENDER, MACHINE SHOP EQUIPMENT & RELATED ITEMS
UNITED ASSET SALES IS A FULL SERVICE, NATIONWIDE LIQUIDATION AUCTION AND ASSET ADVISORY COMPANY. FOUNDED BY ROY GAMITYAN, WE OFFER OVER 30 YEARS OF EXPERTISE IN THE REALM OF INDUSTRIAL MACHINERY AUCTION SALES ACROSS ALL MANUFACTURING SECTORS. WE OFFER OUTRIGHT CASH BUYOUTS, MINIMUM GUARANTEE AND COMMISSION PROPOSALS FOR YOUR CONSIDERATION.
CALL US TODAY FOR A FREE CONSULTATION AND SITE VISIT!