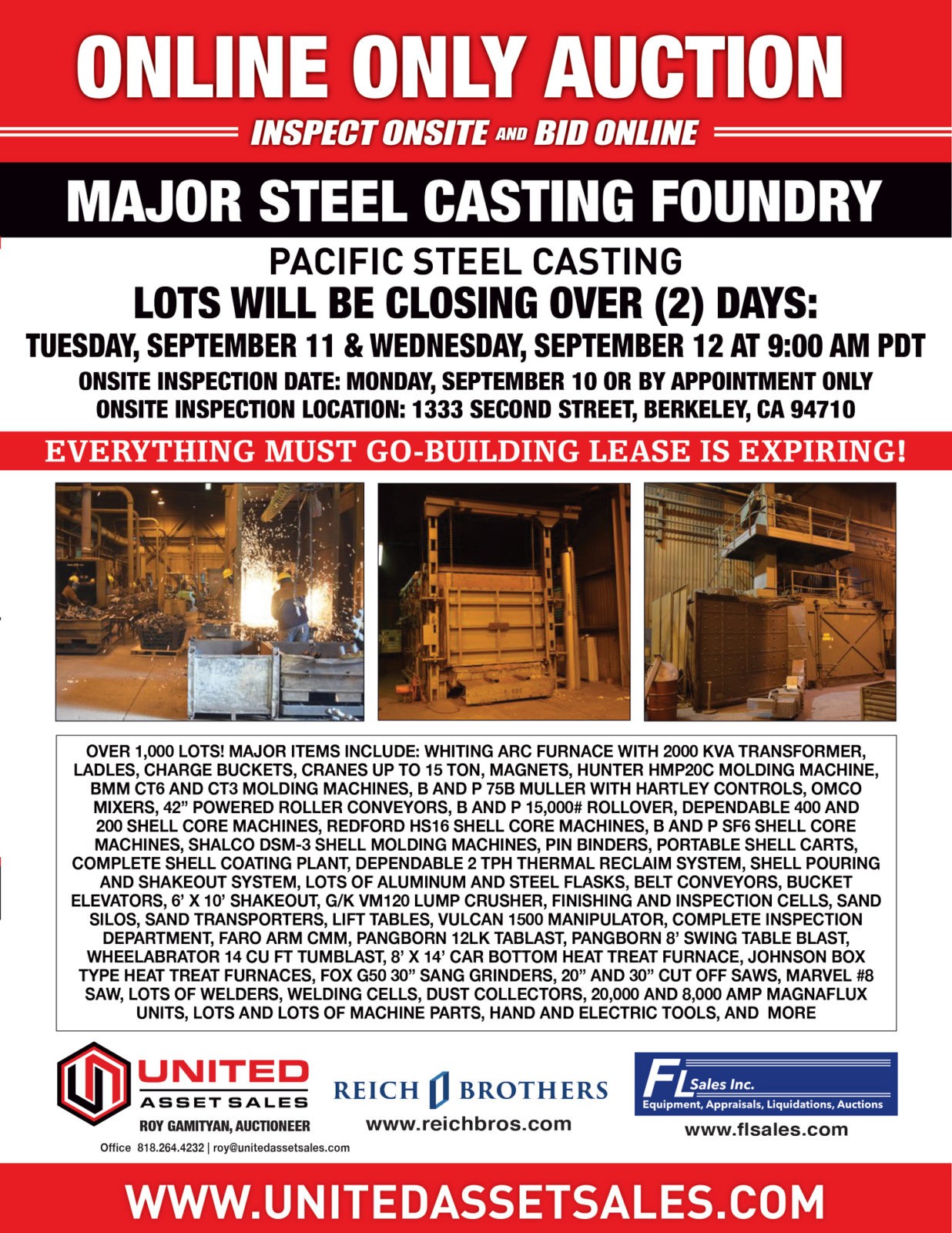 TUESDAY & WEDNESDAY, SEPTEMBER 11 & 12  |  9:00 AM PDT
MAJOR STEEL CASTING FOUNDRY
PACIFIC STEEL CASTING
ONSITE INSPECTION LOCATION:

1333 SECOND STREET, BERKELEY, CA
EVERYTHING MUST GO! BUILDING LEASE IS EXPIRING!
LOTS WILL BE CLOSING OVER (2) DAYS: 

TUESDAY & WEDNESDAY SEPTEMBER 11 & 12 AT 9:00 AM PDT


ONSITE INSPECTION:

MONDAY,

 

SEPTEMBER 10
WHITING ARC FURNACE WITH 2000 KVA TRANSFORMER, LADLES, CHARGE BUCKETS, CRANES UP TO 15 TON, MAGNETS, HUNTER HMP20C MOLDING MACHINE, BMM CT6 AND CT3 MOLDING MACHINES, B AND P 75B MULLER WITH HARTLEY CONTROLS, OMCO MIXERS, 42" POWERED ROLLER CONVEYORS, B AND P 15,000# ROLLOVER, DEPENDABLE 400 AND 200 SHELL CORE MACHINES, REDFORD HS16 SHELL CORE MACHINES, B AND P SF6 SHELL CORE MACHINES, SHALCO DSM-3 SHELL MOLDING MACHINES, PIN BINDERS, PORTABLE SHELL CARTS, COMPLETE SHELL COATING PLANT, DEPENDABLE 2 TPH THERMAL RECLAIM SYSTEM, SELL POURING AND SHAKEOUT SYSTEM, LOTS OF ALUMINUM AND STEEL FLASKS, BELT CONVEYORS, BUCKET ELEVATORS, 6' X 10' SHAKEOUT, G/K VM120 LUMP CRUSHER, FINISHING AND INSPECTION CELLS, SAND SILOS, SAND TRANSPORTERS, LIFT TABLES, VULCAN 1500 MANIPULATOR, COMPLETE INSPECTION DEPARTMENT, FARO ARM CMM, PANGBORN 12LK TABLAST, PANGBORN 8' SWING TABLE BLAST, WHEELABRATOR 14 CU FT TUMBLAST, 8' X 14' CAR BOTTOM HEAT TREAT FURNACE, JOHNSON BOX TYPE HEAT TREAT FURNACES, FOX G50 30" SANG GRINDERS, 20" AND 30" CUT OFF SAWS, MARVEL #8 SAW, LOTS OF WELDERS, WELDING CELLS, DUST COLLECTORS, 20,000 AND 8,000 AMP MAGNAFLUX UNITS, LOTS AND LOTS OF MACHINE PARTS, HAND AND ELECTRIC TOOLS, AND LOTS MORE OVER 1000 LOTS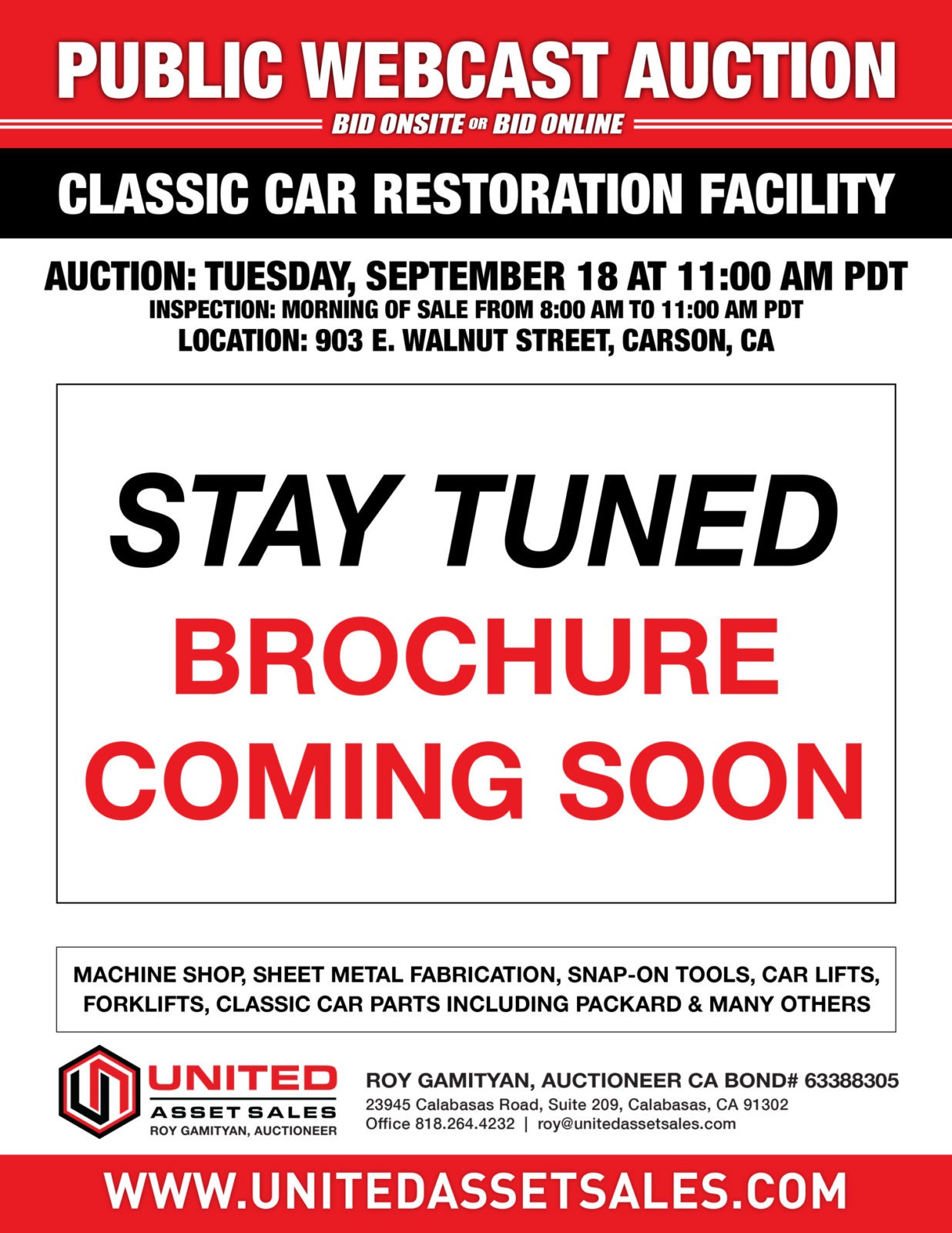 TUESDAY, SEPTEMBER 18 | 11:00 AM PDT
PUBLIC ONSITE WEBCAST AUCTION
TJH CLASSIC CARS
CLASSIC CAR RESTORATION FACILITY
INSPECTION:

MORNING OF SALE FROM 8:00 AM TO 11:00 AM PDT
LOCATION: 903 E. WALNUT STREET, CARSON, CA
MACHINE SHOP, SHEET METAL FABRICATION, SNAP-ON TOOLS, CAR LIFTS, FORKLIFTS, CLASSIC CAR PARTS INCLUDING PACKARD & MANY OTHERS
UNITED ASSET SALES IS A FULL SERVICE, NATIONWIDE LIQUIDATION AUCTION AND ASSET ADVISORY COMPANY. FOUNDED BY ROY GAMITYAN, WE OFFER OVER 30 YEARS OF EXPERTISE IN THE REALM OF INDUSTRIAL MACHINERY AUCTION SALES ACROSS ALL MANUFACTURING SECTORS. WE OFFER OUTRIGHT CASH BUYOUTS, MINIMUM GUARANTEE AND COMMISSION PROPOSALS FOR YOUR CONSIDERATION.
CALL US TODAY FOR A FREE CONSULTATION AND SITE VISIT!