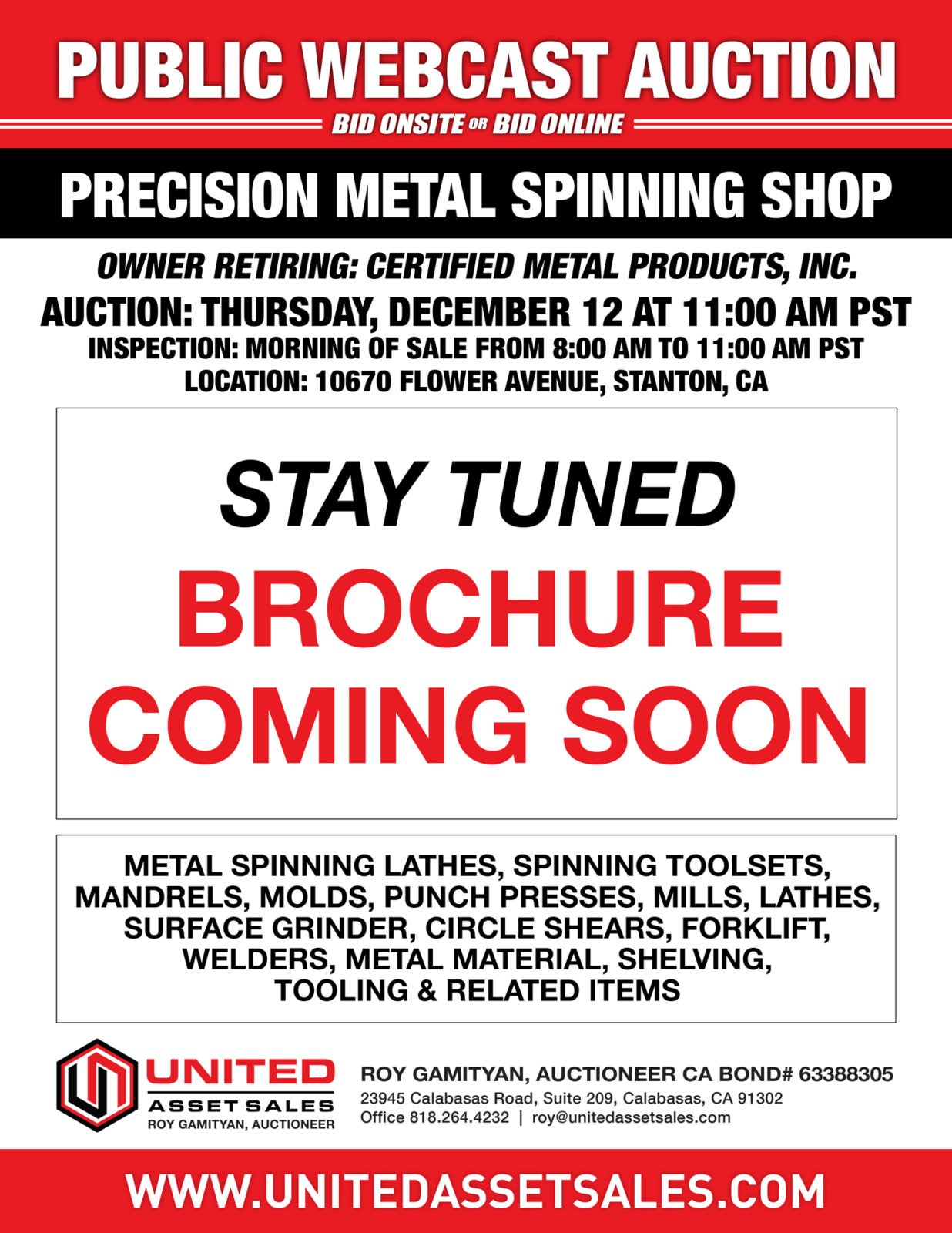 THURSDAY, DECEMBER 12 | 11:00 AM PST
PUBLIC ONSITE WEBCAST AUCTION
OWNER RETIRING: CERTIFIED METAL PRODUCTS, INC.
PRECISION METAL SPINNING SHOP
INSPECTION: 

MORNING OF SALE FROM 8:00 AM TO 11:00 AM PST
LOCATION: 

10670 FLOWER AVENUE, STANTON, CA
METAL SPINNING LATHES, SPINNING TOOLSETS, MANDRELS, MOLDS, PUNCH PRESSES, MILLS, LATHES, SURFACE GRINDER, CIRCLE SHEARS, FORKLIFT, WELDERS, METAL MATERIAL, SHELVING, TOOLING & RELATED ITEMS
UNITED ASSET SALES IS A FULL SERVICE, NATIONWIDE LIQUIDATION AUCTION AND ASSET ADVISORY COMPANY. FOUNDED BY ROY GAMITYAN, WE OFFER OVER 30 YEARS OF EXPERTISE IN THE REALM OF INDUSTRIAL MACHINERY AUCTION SALES ACROSS ALL MANUFACTURING SECTORS. WE OFFER OUTRIGHT CASH BUYOUTS, MINIMUM GUARANTEE AND COMMISSION PROPOSALS FOR YOUR CONSIDERATION.
CALL US TODAY FOR A FREE CONSULTATION AND SITE VISIT!