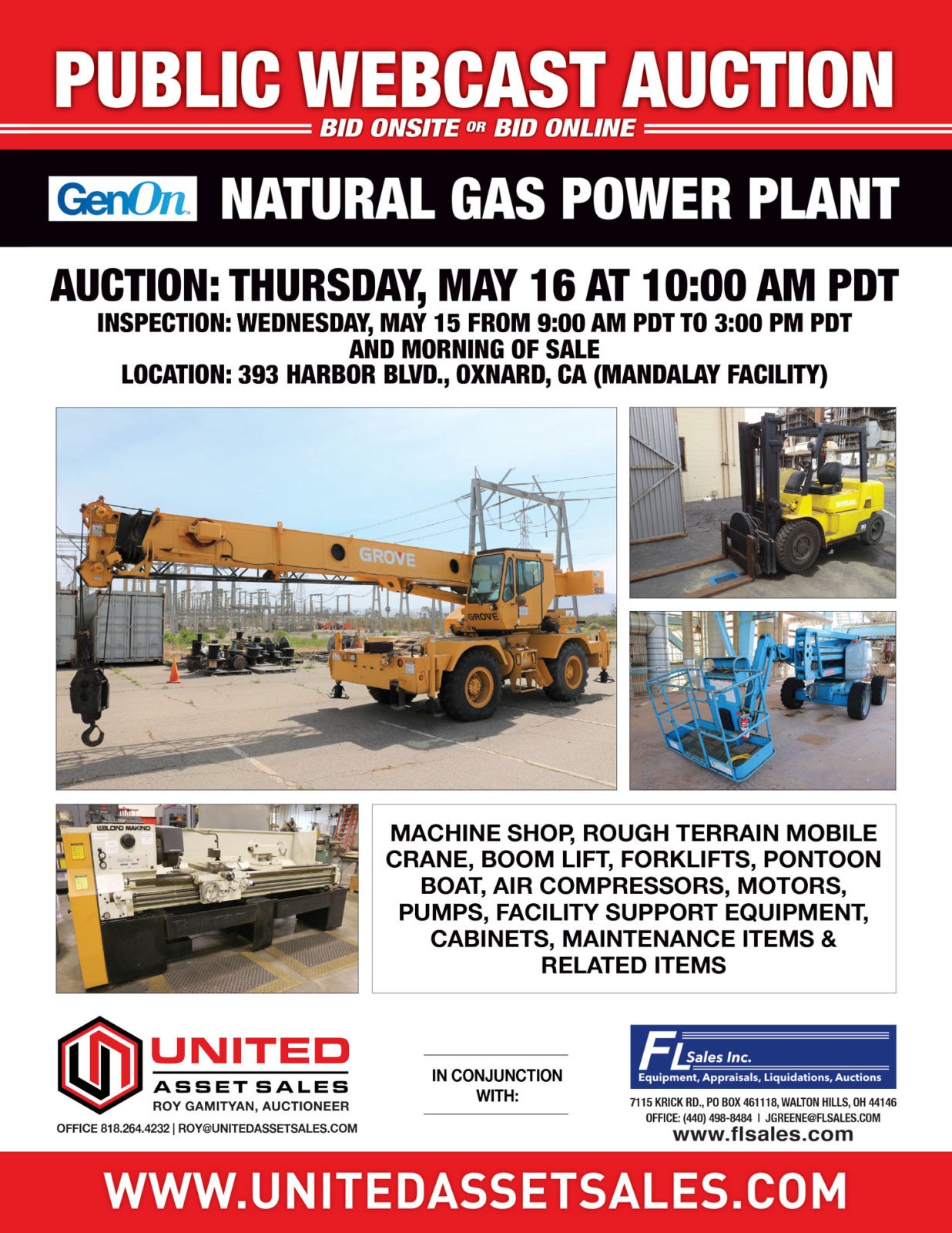 THURSDAY, MAY 16 | 10:00 AM PDT
PUBLIC ONSITE WEBCAST AUCTION
GENON: ASSETS FROM A NATURAL GAS POWER PLANT
SALE #3 MANDALAY FACILITY
INSPECTION:

WEDNESDAY, MAY 15 FROM 9:00 AM TO 3:00 PM PDT AND MORNING OF SALE
LOCATION: 

393 HARBOR BLVD., OXNARD, CA
NO SHORTS OR SKIRTS ON PREMISES, LONG PANTS ONLY
MACHINE SHOP, ROUGH TERRAIN MOBILE CRANE, BOOM LIFT, FORKLIFTS, PONTOON BOAT, AIR COMPRESSORS, MOTORS, PUMPS, FACILITY SUPPORT EQUIPMENT, CABINETS, MAINTENANCE ITEMS & RELATED ITEMS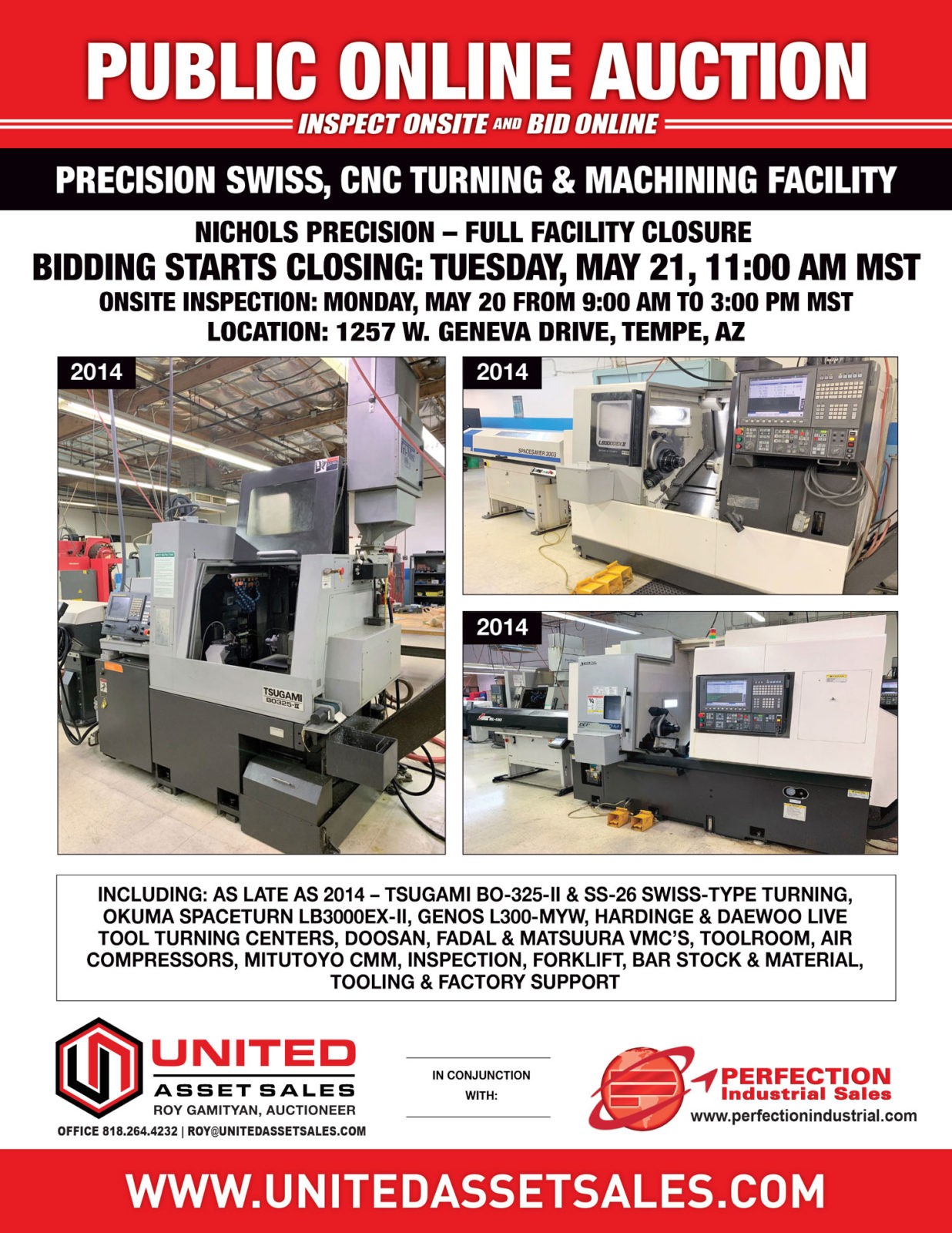 TUESDAY, MAY 21 | 11:00 AM MST
PUBLIC ONLINE AUCTION
NICHOLS PRECISION – FULL FACILITY CLOSURE
BIDDING STARTS CLOSING:

TUESDAY, MAY 21, 11:00 AM MST
ONSITE INSPECTION:

MONDAY, MAY 20 FROM 9:00 AM TO 3:00 PM MST
LOCATION: 1257 W. GENEVA DRIVE, TEMPE, AZ
INCLUDING: AS LATE AS 2014 – TSUGAMI BO-325-II & SS-26 SWISS-TYPE TURNING, OKUMA SPACETURN LB3000EX-II, GENOS L300-MYW, HARDINGE & DAEWOO LIVE TOOL TURNING CENTERS, DOOSAN, FADAL & MATSUURA VMC'S, TOOLROOM, AIR COMPRESSORS, MITUTOYO CMM, INSPECTION, FORKLIFT, BAR STOCK & MATERIAL, TOOLING & FACTORY SUPPORT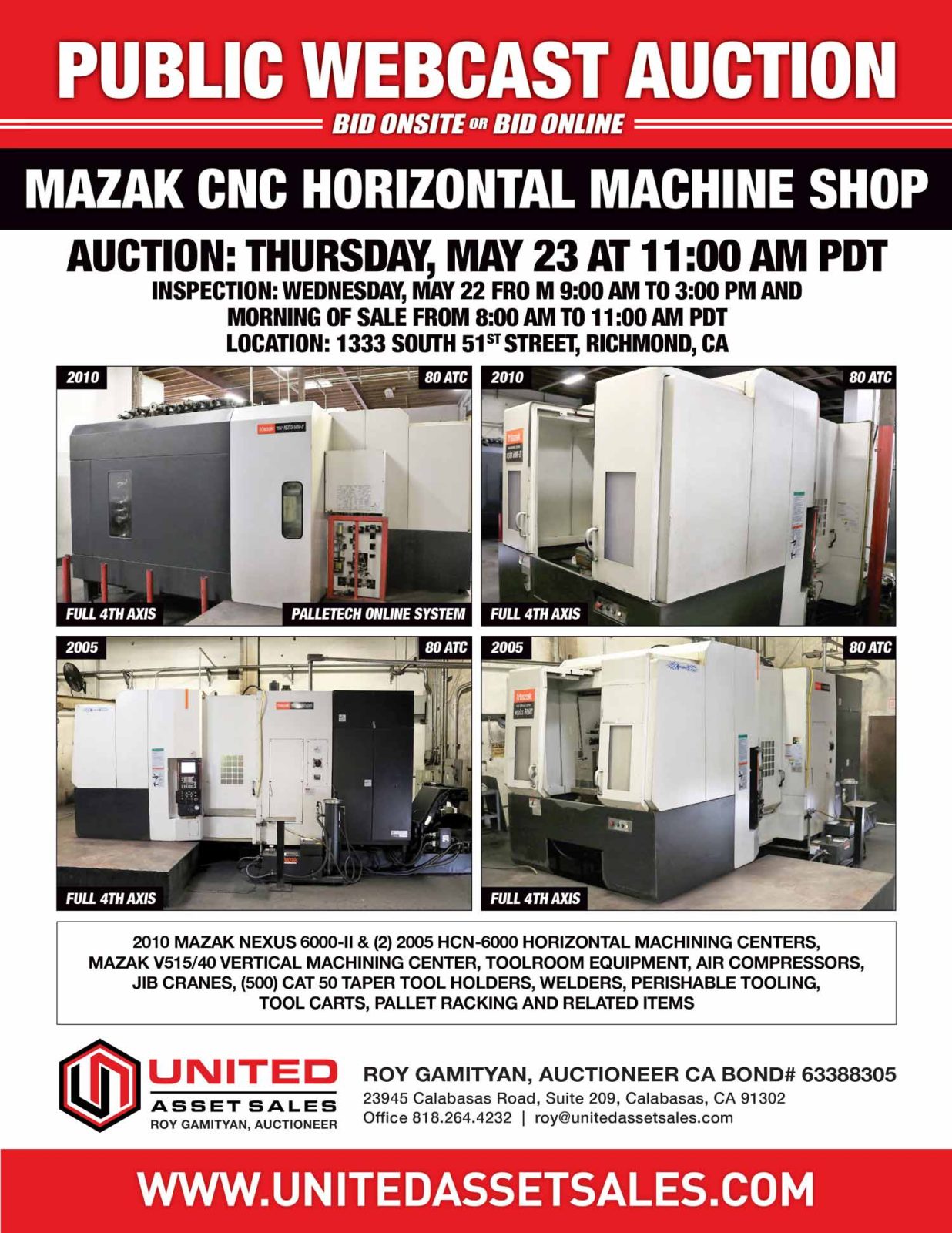 THURSDAY, MAY 23 | 11:00 AM PDT
PUBLIC ONSITE WEBCAST AUCTION
MAZAK CNC HORIZONTAL MACHINE SHOP
INSPECTION:

WEDNESDAY, MAY 22 FROM 9:00 AM TO 3:00 PM AND MORNING OF SALE FROM 8:00 AM TO 11:00 AM PDT
LOCATION:

1333 SOUTH 51ST STREET, RICHMOND, CA
2010 MAZAK NEXUS 6000-II & (2) 2005 HCN-6000 HORIZONTAL MACHINING CENTERS, MAZAK V515/40 VERTICAL MACHINING CENTER, AIR COMPRESSORS, JIB CRANES, (500) CAT 50 TAPER TOOL HOLDERS, MILLER WELDERS, PERISHABLE TOOLING, TOOL HOLDER CARTS, PALLET RACKING AND RELATED ITEMS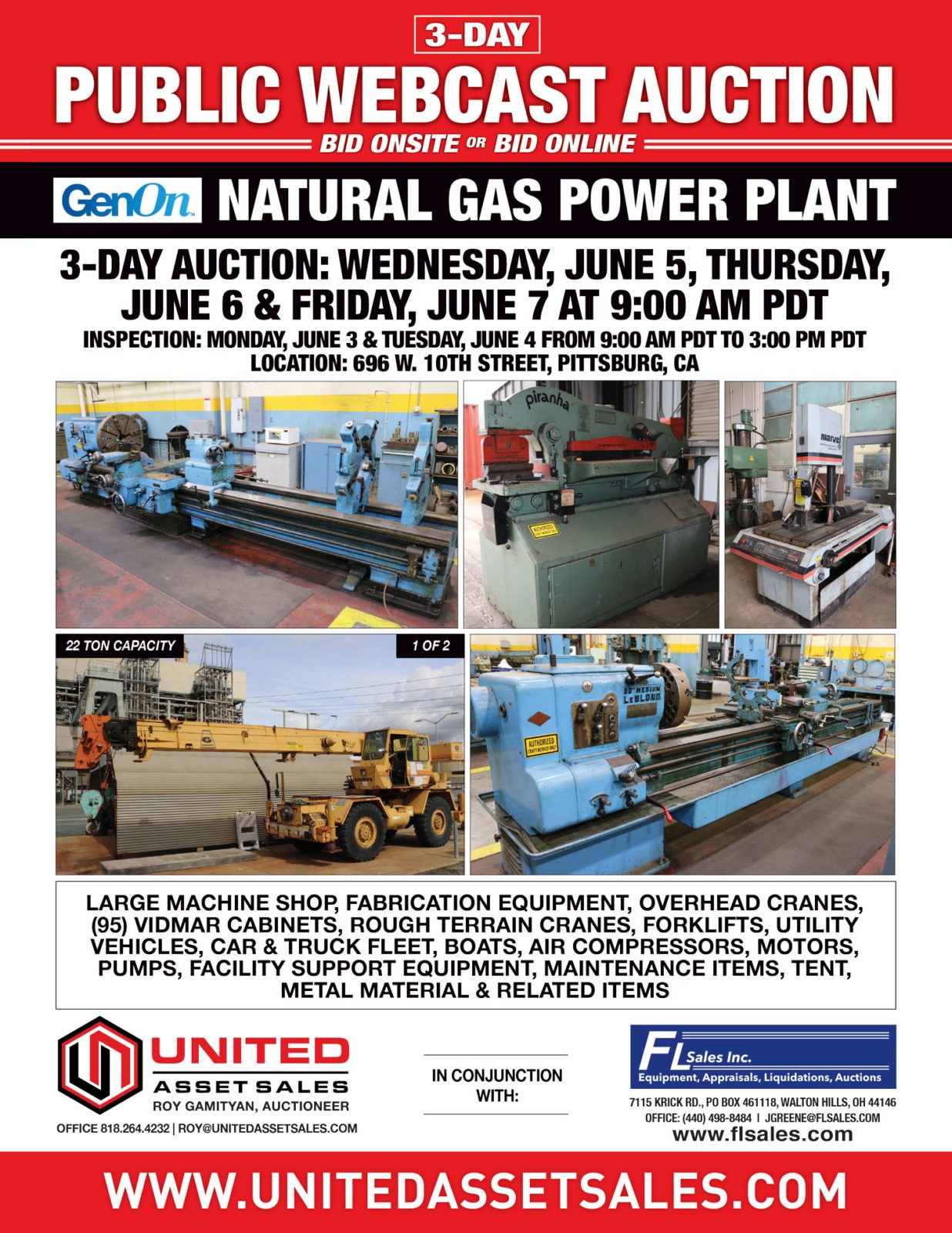 WEDNESDAY, JUNE 5, THURSDAY, JUNE 6 & FRIDAY, JUNE 7 | 9:00 AM PDT
PUBLIC ONSITE WEBCAST AUCTION
GENON: ASSETS FROM A NATURAL GAS POWER PLANT
SALE #4 PITTSBURG & CONTRA COSTA FACILITIES
INSPECTION: 

MONDAY, JUNE 3 & TUESDAY, JUNE 4 FROM 9:00 AM TO 3:00 PM PDT AND MORNING OF SALE
LOCATIONS: 

696 W. 10TH STREET, PITTSBURG, CA & 3201 WILBUR AVENUE, ANTIOCH, CA
NO SHORTS OR SKIRTS ON PREMISES, LONG PANTS ONLY
LARGE MACHINE SHOP, FABRICATION EQUIPMENT, OVERHEAD CRANES, (95) VIDMAR CABINETS, ROUGH TERRAIN CRANES, FORKLIFTS, UTILITY VEHICLES, CAR & TRUCK FLEET, BOATS, AIR COMPRESSORS, MOTORS, PUMPS, FACILITY SUPPORT EQUIPMENT, MAINTENANCE ITEMS, TENT, METAL MATERIAL & RELATED ITEMS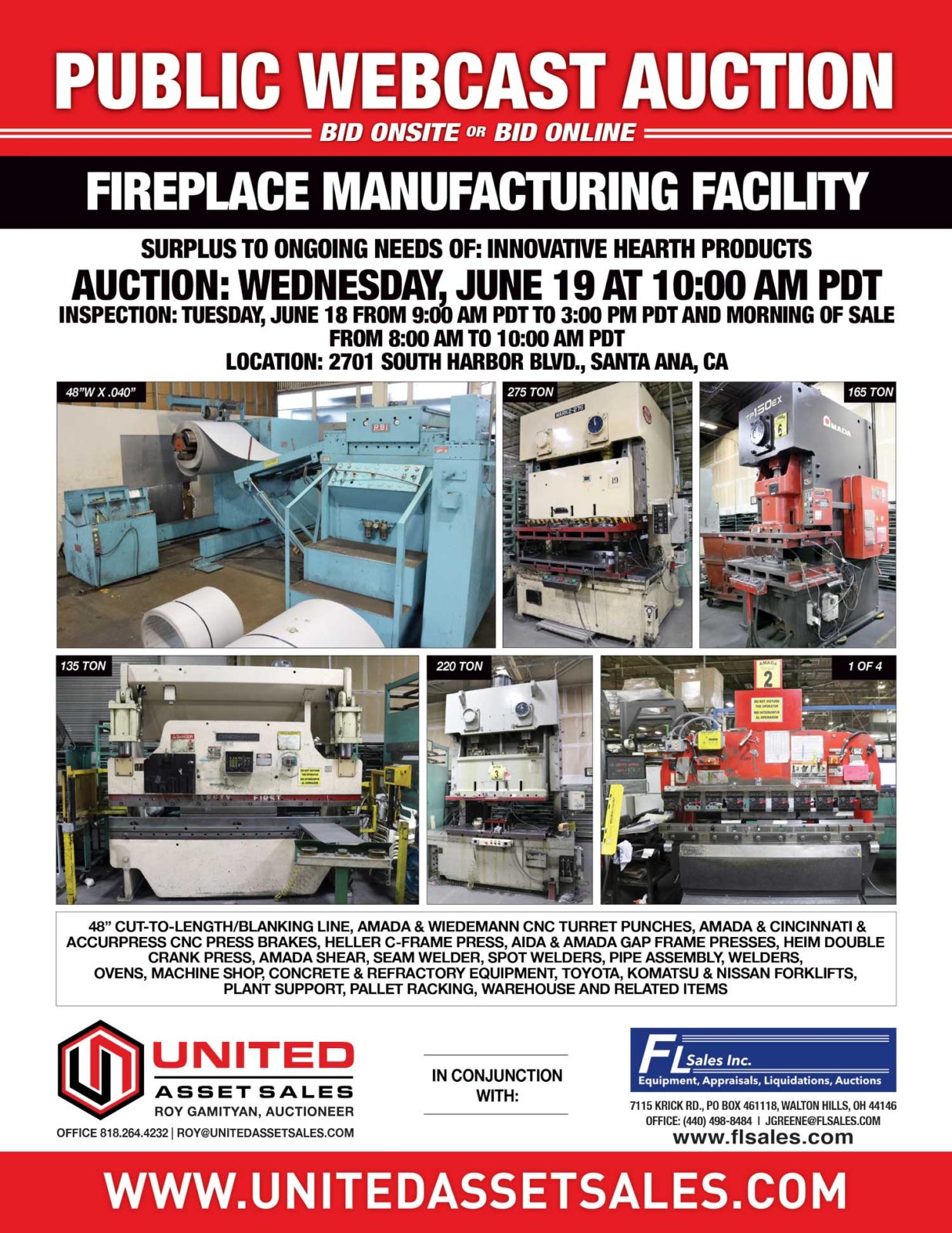 WEDNESDAY, JUNE 19 | 10:00 AM PDT
PUBLIC ONSITE WEBCAST AUCTION
FIREPLACE MANUFACTURING FACLITY
SURPLUS TO ONGOING NEEDS OF INNOVATIVE HEARTH PRODUCTS
INSPECTION: 

TUESDAY, JUNE 18 FROM 9:00 AM PDT TO 3:00 PM PDT AND MORNING OF SALE FROM 8:00 AM TO 10:00 AM PDT
LOCATION: 

2701 SOUTH HARBOR BLVD., SANTA ANA, CA
48" CUT-TO-LENGTH/BLANKING LINE, AMADA & WIEDEMANN CNC TURRET PUNCHES, AMADA & CINCINNATI & ACCURPRESS CNC PRESS BRAKES, HELLER C-FRAME PRESS, AIDA & AMADA GAP FRAME PRESSES, HEIM DOUBLE CRANK PRESS, AMADA SHEAR, SEAM WELDERS, SPOT WELDERS, PIPE ASSEMBLY, WELDERS, OVENS, MACHINE SHOP, CONCRETE & REFRACTORY EQUIPMENT, TOYOTA, KOMATSU & NISSAN FORKLIFTS, PLANT SUPPORT, PALLET RACKING, WAREHOUSE AND RELATED ITEMS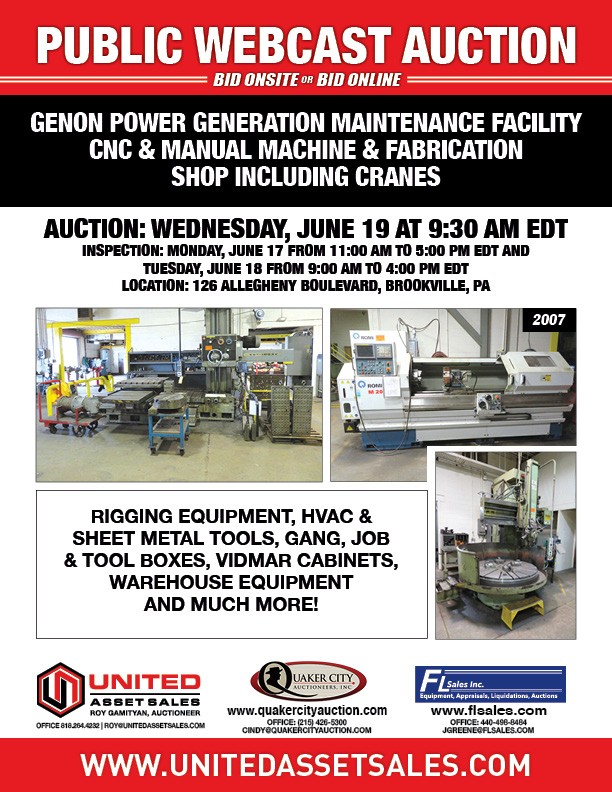 WEDNESDAY, JUNE 19  |  9:30 AM EDT
PUBLIC ONSITE WEBCAST AUCTION
GENON: LARGE MACHINE SHOP-TURBINE REPAIR MAINTENANCE FACILITY, MECHANICAL CONTRACTOR DIVISION
INSPECTION: 

MONDAY, JUNE 17 FROM 11:00 AM TO 5:00 PM EDT AND TUESDAY, JUNE 18 FROM 9:00 AM TO 4:00 PM EDT
LOCATION: 

126 ALLEGHENY BLVD, BROOKVILLE, PA
FULLY EQUIPPED MACHINE SHOP INCLUDING: CNC & MANUAL MACHINE TOOLS, FABRICATION MACHINERY, WELDING & INSPECTION EQUIPMENT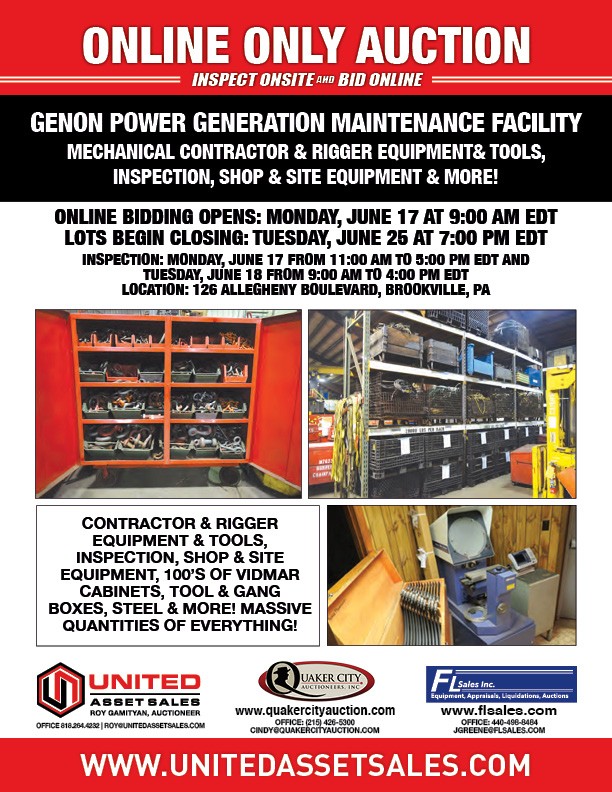 TUESDAY, JUNE 25  |  7:00 PM EDT
PUBLIC ONLINE AUCTION
GENON: LARGE MACHINE SHOP-TURBINE REPAIR MAINTENANCE FACILITY, MECHANICAL CONTRACTOR DIVISION
ONLINE BIDDING OPENS:

MONDAY, JUNE 17 AT 9:00 AM EDT
LOTS BEGIN CLOSING:

TUESDAY, JUNE 25 AT 7:00 PM EDT
INSPECTION: 

MONDAY, JUNE 17 FROM 11:00 AM TO 5:00 PM EDT AND TUESDAY, JUNE 18 FROM 9:00 AM TO 4:00 PM EDT
LOCATION: 

126 ALLEGHENY BLVD, BROOKVILLE, PA
MECHANICAL CONTRACTOR DIVISION INCLUDING: RIGGING EQUIPMENT, HVAC & SHEET METAL TOOLS, GANG, JOB & TOOL BOXES, VIDMAR CABINETS, WAREHOUSE EQUIPMENT AND MUCH MORE!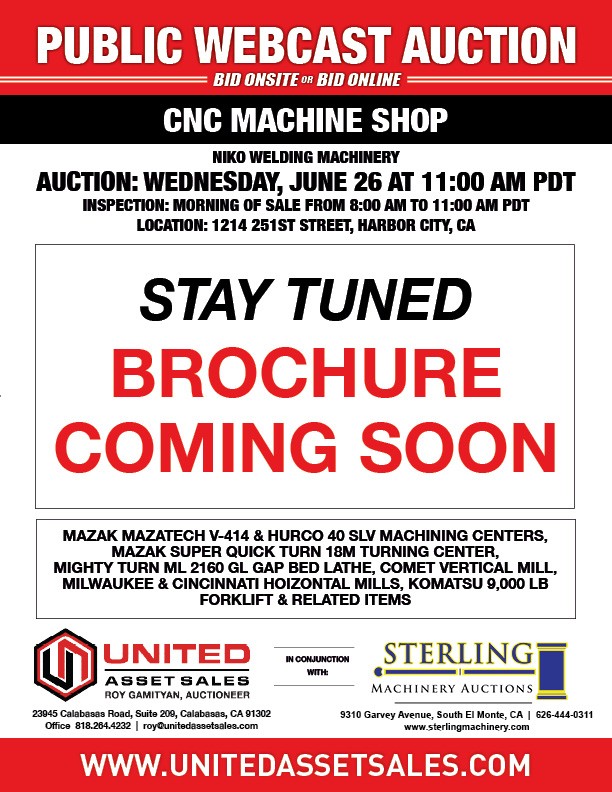 WEDNESDAY, JUNE 26 | 11:00 AM PDT
PUBLIC ONSITE WEBCAST AUCTION
CNC MACHINE SHOP
NIKO WELDING MACHINERY
INSPECTION:

MORNING OF SALE FROM 8:00 AM TO 11:00 AM PDT
LOCATION: 1214 251 ST STREET, HARBOR CITY, CA

MAZAK MAZATECH V-414 & HURCO 40 SLV MACHINING CENTERS, MAZAK SUPER QUICK TURN 18M TURNING CENTER, MIGHTY TURN ML 2160 GL GAP BED LATHE, COMET VERTICAL MILL, MILWAUKEE & CINCINNATI HOIZONTAL MILLS, KOMATSU 9,000 LB FORKLIFT & RELATED ITEMS
UNITED ASSET SALES IS A FULL SERVICE, NATIONWIDE LIQUIDATION AUCTION AND ASSET ADVISORY COMPANY. FOUNDED BY ROY GAMITYAN, WE OFFER OVER 30 YEARS OF EXPERTISE IN THE REALM OF INDUSTRIAL MACHINERY AUCTION SALES ACROSS ALL MANUFACTURING SECTORS. WE OFFER OUTRIGHT CASH BUYOUTS, MINIMUM GUARANTEE AND COMMISSION PROPOSALS FOR YOUR CONSIDERATION.
CALL US TODAY FOR A FREE CONSULTATION AND SITE VISIT!