---
MACHINERY & EQUIPMENT DISPOSITION FOR OVER 30 YEARS
---
AUCTIONS
We specialize in serving all size machine shops & metal fabrication facilities, financial institutions, workout consultants, corporations and individual businesses. We access the highest return on your valued assets, with a highly strategized disposition plan, expertly crafted targeted marketing and precise execution.
LIQUIDATIONS
Serving financial institutions, workout consultants, corporations and individual businesses with orderly liquidations of single items to full plants.
APPRAISALS
Serving financial institutions, insurance companies, corporations and individual businesses in obtaining accurate, on-time and current-market valuations of industrial machinery and equipment and/or inventory.
---
UPCOMING AUCTION CALENDAR
---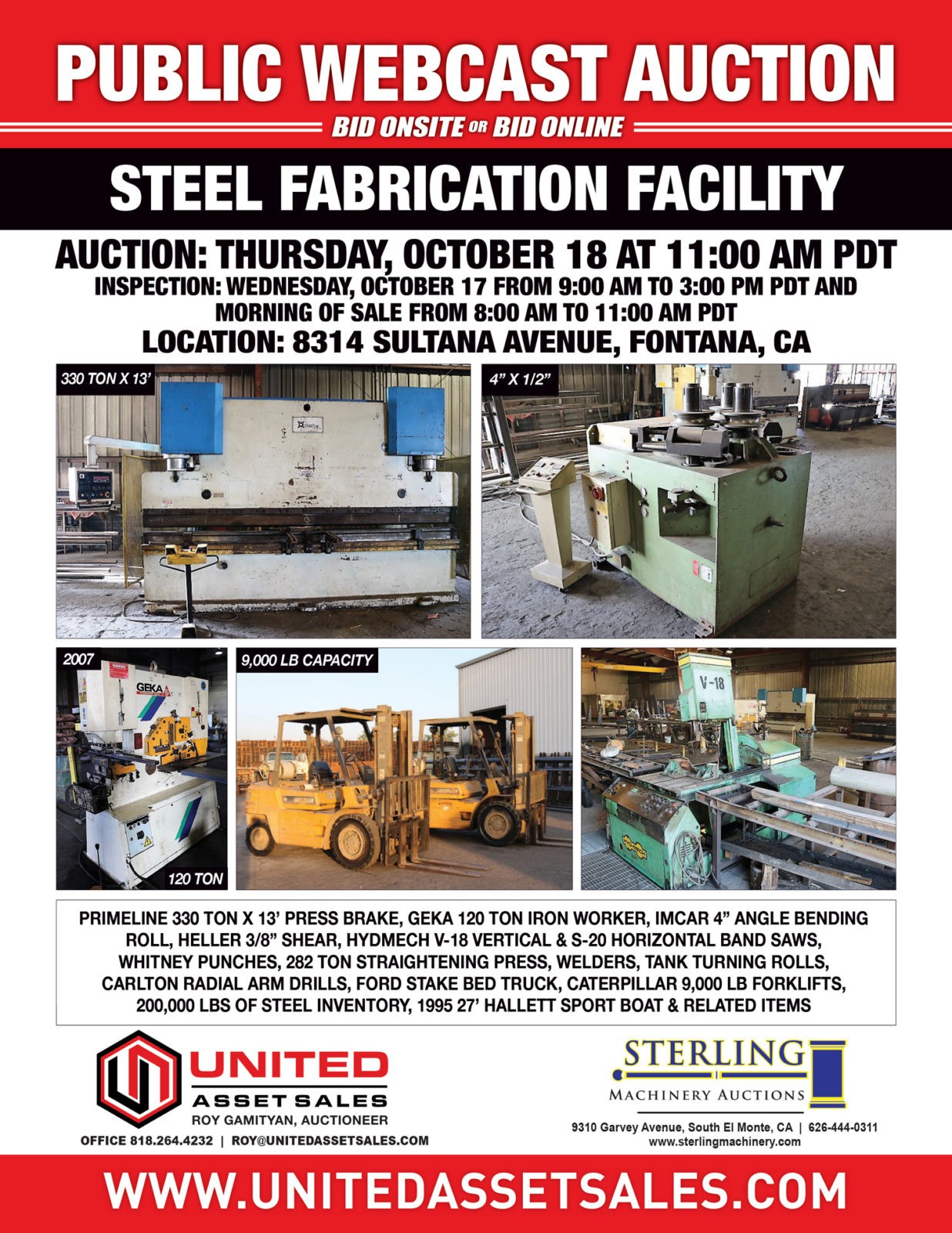 THURSDAY, OCTOBER 18 | 11:00 AM PDT
PUBLIC ONSITE WEBCAST AUCTION
STEEL FABRICATION FACILITY
INSPECTION:

WEDNESDAY, OCTOBER 17 FROM 9:00 AM TO 3:00 PM PDT AND MORNING OF SALE FROM 8:00 AM TO 11:00 AM PDT
LOCATION: 8314 SULTANA AVENUE, FONTANA, CA
PRIMELINE 330 TON X 13' PRESS BRAKE, HELLER 3/8" SHEAR, IMCAR 4" ANGLE BENDING ROLL, GEKA 120 TON IRONWORKER, HYDMECH V-18 VERTICAL & S-20 HORIZONTAL BAND SAWS, WHITNEY PUNCHES, 282 TON STRAIGHTENING PRESS, WELDERS, TANK TURNING ROLLS, CARLTON RADIAL ARM DRILLS, FORD STAKE BED TRUCK, CATERPILLAR 9,000 LB FORKLIFTS, STEEL INVENTORY, 1995 27' HALLETT SPORT BOAT & RELATED ITEMS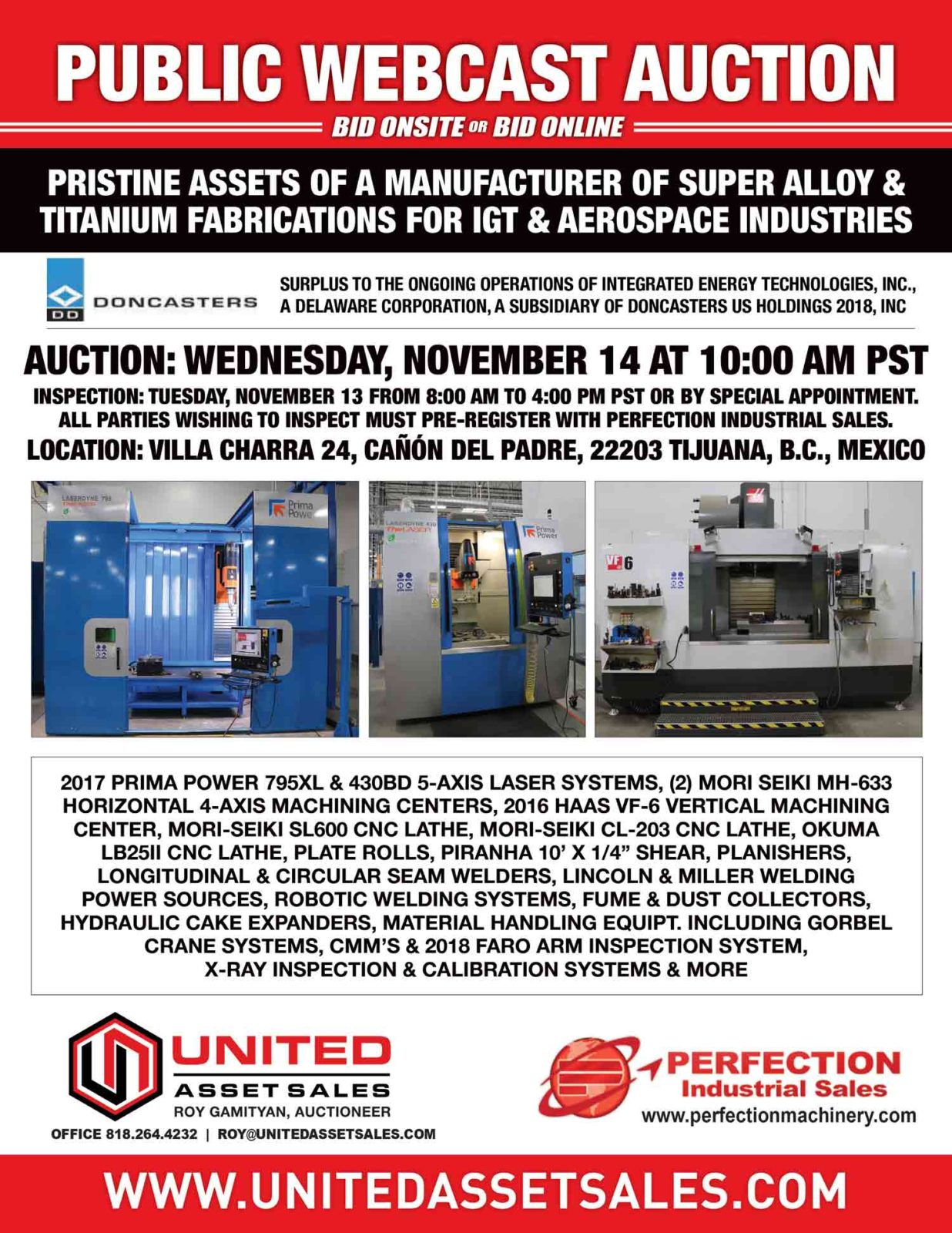 WEDNESDAY, NOVEMBER 14 | 10:00 AM PST
PUBLIC ONSITE WEBCAST AUCTION
PRISTINE ASSETS OF A MANUFACTURER OF SUPER ALLOY & TITANIUM FABRICATIONS FOR IGT & AEROSPACE INDUSTRIES
INSPECTION:

TUESDAY, NOVEMBER 13 FROM 8:00 AM TO 4:00 PM PST OR BY SPECIAL APPOINTMENT.
ALL PARTIES WISHING TO INSPECT MUST PRE-REGISTER WITH PERFECTION INDUSTRIAL SALES.
LOCATION:

VILLA CHARRA 24, CAÑON DEL PADRE, 22203 TIJUANA, B.C., MEXICO 
2017 PRIMA POWER 795XL & 430BD 5-AXIS LASER SYSTEMS, (2) MORI SEIKI MH-633 HORIZONTAL 4-AXIS MACHINING CENTERS, 2016 HAAS VF-6 VERTICAL MACHINING CENTER, MORI-SEIKI SL600 CNC LATHE, MORI-SEIKI CL-203 CNC LATHE, OKUMA LB25II CNC LATHE, PLATE ROLLS, PIRANHA 10' X 1/4" SHEAR, PLANISHERS, LONGITUDINAL & CIRCULAR SEAM WELDERS, LINCOLN & MILLER WELDING POWER SOURCES, ROBOTIC WELDING SYSTEMS, FUME & DUST COLLECTORS, HYDRAULIC CAKE EXPANDERS, MATERIAL HANDLING EQUIPT. INCLUDING GORBEL CRANE SYSTEMS, CMM'S & 2018 FARO ARM INSPECTION SYSTEM, X-RAY INSPECTION & CALIBRATION SYSTEMS & MORE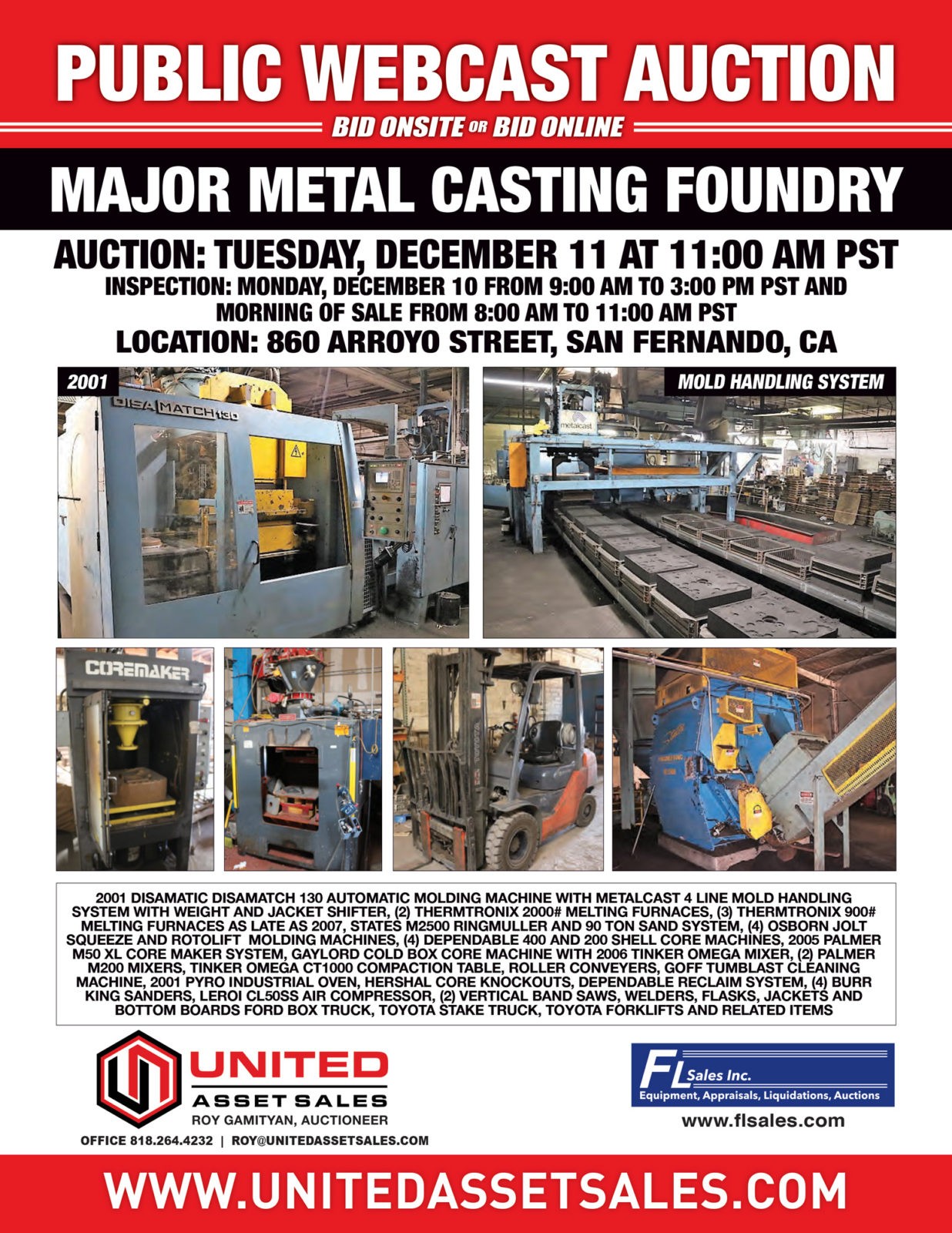 TUESDAY, DECEMBER 11 | 11:00 AM PST
PUBLIC ONSITE WEBCAST AUCTION
MAJOR METAL CASTING FOUNDRY
INSPECTION: 

MONDAY, DECEMBER 10 FROM 9:00 AM TO 3:00 PM PST AND MORNING OF SALE FROM 8:00 AM TO 11:00 AM PST
LOCATION: 

860 ARROYO STREET, SAN FERNANDO, CA
2001 DISAMATIC DISAMATCH 130 AUTOMATIC MOLDING MACHINE WITH METALCAST 4 LINE MOLD HANDLING SYSTEM WITH WEIGHT AND JACKET SHIFTER, (2) THERMTRONIX 2000# MELTING FURNACES, (3) THERMTRONIX 900# MELTING FURNACES AS LATE AS 2007, STATES M2500 RINGMULLER AND 90 TON SAND SYSTEM, (4) OSBORN JOLT SQUEEZE AND ROTOLIFT MOLDING MACHINES, (4) DEPENDABLE 400 AND 200 SHELL CORE MACHINES, 2005 PALMER M50 XL CORE MAKER SYSTEM, GAYLORD COLD BOX CORE MACHINE WITH 2006 TINKER OMEGA MIXER, (2) PALMER M200 MIXERS, TINKER OMEGA CT1000 COMPACTION TABLE, ROLLER CONVEYERS, GOFF TUMBLAST CLEANING MACHINE, 2001 PYRO INDUSTRIAL OVEN, HERSHAL CORE KNOCKOUTS, DEPENDABLE RECLAIM SYSTEM, (4) BURR KING SANDERS, LEROI CL50SS AIR COMPRESSOR, (2) VERTICAL BAND SAWS, WELDERS, FLASKS, JACKETS AND BOTTOM BOARDS FORD BOX TRUCK, TOYOTA STAKE TRUCK, TOYOTA FORKLIFTS AND RELATED ITEMS
UNITED ASSET SALES IS A FULL SERVICE, NATIONWIDE LIQUIDATION AUCTION AND ASSET ADVISORY COMPANY. FOUNDED BY ROY GAMITYAN, WE OFFER OVER 30 YEARS OF EXPERTISE IN THE REALM OF INDUSTRIAL MACHINERY AUCTION SALES ACROSS ALL MANUFACTURING SECTORS. WE OFFER OUTRIGHT CASH BUYOUTS, MINIMUM GUARANTEE AND COMMISSION PROPOSALS FOR YOUR CONSIDERATION.
CALL US TODAY FOR A FREE CONSULTATION AND SITE VISIT!