PUBLIC WEBCAST AUCTION | TUESDAY, JANUARY 22
TUESDAY, JANUARY 22 | 11:00 AM PST
PUBLIC ONSITE WEBCAST AUCTION
STORE FIXTURE MANUFACTURER & NEW INVENTORY
INSPECTION: 

MONDAY JANUARY 21 FROM 9:00 AM TO 3:00 PM PST AND MORNING OF SALE FROM 8:00 AM TO 11:00 AM PST
LOCATION: 6100 BANDINI BLVD., COMMERCE, CA
METAL FABRICATION, WELDING, POLISHING, FORKLIFTS, METAL MATERIAL, PALLET RACKING & FINISHED GOODS INVENTORY
PRESS BRAKES
WYSONG MODEL 1272, 8' X 55 TON, S/N PB3-128
WOLF MODEL 44TP/100, 8' CAPACITY, S/N C9023
CHICAGO 3'
SHEARS
WOLF MODEL 100 X 8PS, 8' CAPACITY, S/N C9023
WYSONG MODEL 1272, 12 GAGE, S/N R3-201
BENDING ROLL
BUFFALO #OA33, TOOLING, S/N 5147410
SPOT WELDERS
TAYLOR WINFIELD 50 KVA, ROBOTRON 30 KVA, NIKO 50 KVA
PUNCH PRESSES
NIAGARA OBI #4, V & O #5, (2) DIAMOND #9, WALSH #8, HOLMES OBI #8,
SERVICE MODEL 3G, PRESS RIGHT #30SE OBI, SERVICE MODEL 2G, DIAMOND OBI #30, BLISS 21B OBI, WALSH #55
MACHINE SHOP EQUIPMENT
LEBLOND REGAL LATHE
(3) LEBLOND 13" LATHES
BRIDGEPORT & ENCO VERTICAL MILLS
WELDING MACHINES & NEW WELDING WIRE
MILLER MILLERMATIC 252
MILLER DYNASTY 200
ESAB HELIARC 252
MILLER CP250TS, WIRE FEEDER
AIRCO 250 HELIWELDER
THERACOTE WELCO ALLOY ER70S-6, SIZE .035 WELDING WIRE
SHOP SUPPORT ITEMS
(15) DOUBLE END POLISHERS, OSTER PIPE THREADERS, REXON DRILL PRESS,  STEEL SHELF UNITS, PALLET RACKING, MAINTENANCE SHOP TOOLS & EQUIPMENT SUPPLIES, BANDING CARTS, CHAIN, SLINGS, BINDERS, C-CLAMPS, WELDING SUPPLIES AND RELATED ITEMS
STAKE BED TRUCK
INTERNATIONAL, MODEL 500, 18' BED, MANUAL TRANSMISSION, VIN# JPAWSYUM8MAK60047, APPROX 278,143 MILES
FORKLIFTS
TOYOTA, 4750 LB, LPG, SOLID PNEUMATIC TIRES, 2 STAGE MAST, LOAD LIGHTS, 48" FORKS
HYSTER, 4750 LB, LPG, SOLID PNEUMATIC TIRES, 2 STAGE MAST, LOAD LIGHTS, 48" FORKS
STEEL INVENTORY
APPROXIMATELY 50,000 LBS OF USEABLE SQUARE TUBE ½" X 1 ¼" X 20', 1" X 3" X 20', 1.5" OD X 20' PIPE, 20' FLAT BAR, 20' SOLID ROUND
WAREHOUSE PALLET RACKING
100'S OF SECTIONS OF INTERLAKE INCLUDING 12" UPRIGHTS, 8' BEAMS
NEW STORE FIXTURE INVENTORY
HUGE QUANTITY OF CROME FLOOR RACKS, TABLES, WALL SYSTEMS, GARMENT RACKS, SIGN HOLDERS, HANGERS, COUNTERTOP DISPLAYS, SHELVING, ACCESSORIES, HARDWARE, CASTERS, GRID WALL BRACKETS, GRID SCREENS, CLOTHING RACKS, PEG HOOKS, RETAIL STORE SUPPLIES AND RELATED ITEMS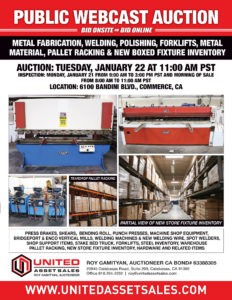 TERMS:  CASH, CASHIER'S CHECK, BUSINESS CHECK WITH BANK LETTER OF GUARANTEE, BANK WIRE TRANSFER. FULL PAYMENT MUST BE MADE NO LATER THAN 24 HOURS OF WINNING BID. 
ALL ITEMS MUST BE REMOVED NO LATER THAN FRIDAY, FEBRUARY 15. NO EXCEPTIONS.
BUYER'S PREMIUM: 15% FOR ALL ONSITE PURCHASES AND 18% FOR ALL ONLINE PURCHASES.
UNITED ASSET SALES IS A FULL SERVICE, NATIONWIDE LIQUIDATION AUCTION AND ASSET ADVISORY COMPANY. FOUNDED BY ROY GAMITYAN, WE OFFER OVER 30 YEARS OF EXPERTISE IN THE REALM OF INDUSTRIAL MACHINERY AUCTION SALES ACROSS ALL MANUFACTURING SECTORS. WE OFFER OUTRIGHT CASH BUYOUTS, MINIMUM GUARANTEE AND COMMISSION PROPOSALS FOR YOUR CONSIDERATION.
CALL US TODAY FOR A FREE CONSULTATION AND SITE VISIT!