WEDNESDAY, JUNE 5, THURSDAY, JUNE 6 & FRIDAY, JUNE 7 | 9:00 AM PDT
WEDNESDAY, JUNE 5, THURSDAY, JUNE 6 & FRIDAY, JUNE 7 | 9:00 AM PDT
PUBLIC ONSITE WEBCAST AUCTION
GENON: ASSETS FROM A NATURAL GAS POWER PLANT
SALE #4 PITTSBURG & CONTRA COSTA FACILITIES
INSPECTION: 

MONDAY, JUNE 3 & TUESDAY, JUNE 4 FROM 9:00 AM TO 3:00 PM PDT AND MORNING OF SALE
LOCATIONS: 

696 W. 10TH STREET, PITTSBURG, CA & 3201 WILBUR AVENUE, ANTIOCH, CA
NO SHORTS OR SKIRTS ON PREMISES, LONG PANTS ONLY
EXPERTLY MAINTAINED POWER EQUIPMENT, MACHINERY, TOOLING, SUPPORT EQUIPMENT, CRANES AND OTHER ITEMS PERTAINING TO POWER GENERATION AND INDUSTRIAL OPERATIONS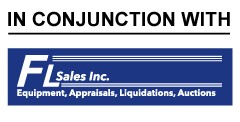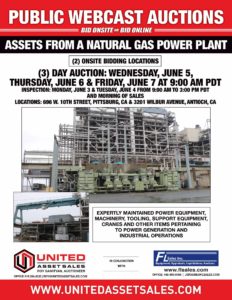 EXPERTLY MAINTAINED POWER EQUIPMENT, MACHINERY, TOOLING, SUPPORT EQUIPMENT, CRANES AND OTHER ITEMS PERTAINING TO POWER GENERATION AND INDUSTRIAL OPERATIONS
TERMS:  CASH, CASHIER'S CHECK, BUSINESS CHECK WITH BANK LETTER OF GUARANTEE, BANK WIRE TRANSFER. FULL PAYMENT MUST BE MADE NO LATER THAN 24 HOURS OF WINNING BID. 
BUYER'S PREMIUM: 10% FOR ALL ONSITE PURCHASES AND 13% FOR ALL ONLINE PURCHASES
INSPECTION AND AUCTION DAY REQUIREMENTS FOR ALL IN ATTENDANCE: NO OPEN TOE SHOES, NO SHORTS, NO CHILDREN UNDER 18 YEARS OLD, HARD HATS AND SAFETY GLASSES REQUIRED DURING INSPECTION PERIOD. DRIVER'S LICENSE OR PHOTO ID REQUIRED.
UNITED ASSET SALES IS A FULL SERVICE, NATIONWIDE LIQUIDATION AUCTION AND ASSET ADVISORY COMPANY. FOUNDED BY ROY GAMITYAN, WE OFFER OVER 30 YEARS OF EXPERTISE IN THE REALM OF INDUSTRIAL MACHINERY AUCTION SALES ACROSS ALL MANUFACTURING SECTORS. WE OFFER OUTRIGHT CASH BUYOUTS, MINIMUM GUARANTEE AND COMMISSION PROPOSALS FOR YOUR CONSIDERATION.
CALL US TODAY FOR A FREE CONSULTATION AND SITE VISIT!