THURSDAY, MAY 16 | 10:00 AM PDT
THURSDAY, MAY 16 | 10:00 AM PDT
PUBLIC ONSITE WEBCAST AUCTION
GENON: ASSETS FROM A NATURAL GAS POWER PLANT
SALE #3 MANDALAY FACILITY
INSPECTION:

WEDNESDAY, MAY 15 FROM 9:00 AM TO 3:00 PM PDT AND MORNING OF SALE
LOCATION: 

393 HARBOR BLVD., OXNARD, CA
NO SHORTS OR SKIRTS ON PREMISES, LONG PANTS ONLY
MACHINE SHOP, ROUGH TERRAIN MOBILE CRANE, BOOM LIFT, FORKLIFTS, PONTOON BOAT, AIR COMPRESSORS, MOTORS, PUMPS, FACILITY SUPPORT EQUIPMENT, CABINETS, MAINTENANCE ITEMS & RELATED ITEMS
MACHINE SHOP
PIRANHA IRON WORKER, MODEL P2, S/N P2-487
LEBLOND REGAL SERVO SHIFT ENGINE LATHE, 18" X 72" CC, 12" 6 JAW CHUCK, 3" HOLE THRU SPINDLE, TAILSTOCK, XY DRO
 LEBLOND REGAL SERVO SHIFT ENGINE LATHE, 18" X 72" CC, 12" 3 JAW CHUCK, TAILSTOCK
ACRA VERTICAL MILL, POWER FEED, 9" X 42" TABLE, POWER FEED, XY DRo
PEERLESS LHM-280 HORIZONTAL BAND SAW, S/N P28132
BUFFALO #22 DRILL PRESS
WILTON 20" DRILL PRESS
HARIG 6" X 18" SURFACE GRINDER, HYDRAULIC
DAKE JOHNSON VH-24 VERTICAL BAND SAW, BLADE WELDER/GRINDER
MBA SHOT BLAST CABINET
LINCOLN WELDANPOWER PRO 250 G9 WELDER GENERATOR, TRAILER MOUNTED 
LINCOLN TIG 300/300 WELDER
PORTABLE NORTHSTAR AIR COMPRESSOR, TRAILER MOUNTED
FAMCO 5C ARBOR PRESS
WELDING TABLES
19 VIDMAR TOOL CABINETS 
STRONGHOLD CABINETS
FORKLIFTS, BOAT
HYSTER ELECTRIC 4,000 LB CAPACITY, 2 STAGE MAST
NISSAN F04G 40V, 6,000 LB FORKLIFT, ROTARY FORKS
JLG SCISSOR LIFT
GENIE Z-45/25 BOOM LIFT, 4 X 4, ALL TERRAIN, ARTICULATING BOOM
ROUGH TERRAIN VEHICLE
GROVE RT522B MOBILE ROUGH TERRAIN CRANE, 22 TON,  52' BOOM,  25' JIB, TELESCOPING REBUILT CAB TURNING AND BOOM HYDRAULICS, PAY LOAD MOVEMENT INDICATOR, 1351 HORIZONTAL CONSOLE, BACK UP CAMERA, S/N 87141
MACHINE SHOP SUPPORT ITEMS
POWER TOOLS, WELDING WIRE, WELDING TABLES, WORK BENCHES, CARTS, SHOP FANS, PEDESTAL GRINDERS, HAND TOOLS, POWER TOOLS, MAINTENANCE SHOP TOOLS & EQUIPMENT SUPPLIES, BANDING CARTS AND RELATED ITEMS
WAREHOUSE ITEMS
OVERHEAD CRANE, POWER CIRCUIT BREAKERS, BATTERY PACKS, RIGHT ANGLE FAN DRIVES, VALVES, PUMPS, GEAR REDUCERS, PALLET RACKING, METAL SHELVING, CARBON STEEL PIPE FITTINGS, BRASS COUPLERS, STAINLESS STEEL NUTS/BOLTS, ELECTRICAL PIPE FITTINGS, IMPACT SOCKETS, TORQUE WRENCHES, RIGID PIPE DIES, SLUG WRENCHES, RIGGING CABLES, HOISTS, JOB BOXES, CLAMPS, SHOP FANS, PEDESTAL GRINDERS, HAND TOOLS, POWER TOOLS, STEEL SHELF UNITS, METAL PIPE AND RELATED ITEMS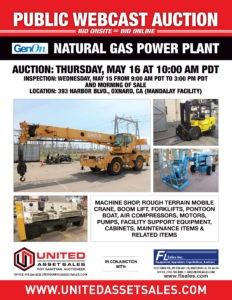 TERMS OF PAYMENT: 
CASH, CASHIER'S CHECK, BUSINESS CHECK WITH BANK LETTER OF GUARANTEE, BANK WIRE TRANSFER. FULL PAYMENT MUST BE MADE NO LATER THAN 24 HOURS OF WINNING BID.
REMOVAL: 
ALL MACHINE SHOP & WAREHOUSE ITEMS MUST
BE REMOVED NO LATER THAN FRIDAY, MAY 24. MAJOR PLANT ITEMS REMOVAL TBD. PREPPING, REMOVAL, LOADING & TRUCKING IS THE RESPONSIBILITY OF THE BUYER.
BUYER'S PREMIUM:
10% FOR ALL ONSITE PURCHASES AND
13% FOR ALL ONLINE PURCHASES.
INSPECTION AND AUCTION DAY REQUIREMENTS FOR ALL IN ATTENDANCE: NO OPEN TOE SHOES, NO SHORTS, NO CHILDREN UNDER 18 YEARS OLD, HARD HATS AND SAFETY GLASSES REQUIRED DURING INSPECTION PERIOD. DRIVER'S LICENSE OR PHOTO ID REQUIRED.
UNITED ASSET SALES IS A FULL SERVICE, NATIONWIDE LIQUIDATION AUCTION AND ASSET ADVISORY COMPANY. FOUNDED BY ROY GAMITYAN, WE OFFER OVER 30 YEARS OF EXPERTISE IN THE REALM OF INDUSTRIAL MACHINERY AUCTION SALES ACROSS ALL MANUFACTURING SECTORS. WE OFFER OUTRIGHT CASH BUYOUTS, MINIMUM GUARANTEE AND COMMISSION PROPOSALS FOR YOUR CONSIDERATION.
CALL US TODAY FOR A FREE CONSULTATION AND SITE VISIT!