PUBLIC ONLINE AUCTION | BIDDING CLOSES: TUESDAY, DECEMBER 4, 10:00 AM PST
TUESDAY, DECEMBER 4 | 10:00 AM PST
PUBLIC ONLINE AUCTION
BRUDERER HIGH-SPEED STAMPING TO 30 TON, MINSTER & MABU PUNCH PRESSES TO 100 TON, PRESS FEED EQUIPMENT, TOP EDM MACHINE, LAGUN FTV-4 VERTICAL MILL, FASTENER HARDWARE & RELATED ITEMS
BIDDING OPENS:

MONDAY, NOVEMBER 26
BIDDING CLOSES:

TUESDAY, DECEMBER 4, 10:00 AM PST
INSPECTION: 

BY APPOINTMENT ONLY, EQUIPMENT LOCATED IN ORANGE COUNTY, CA OR TIJUANA, BC, MX


(*ITEM'S LOCATED IN TIJUANA, MX ARE NOTED. ALL OTHER ITEMS ARE LOCATED IN ORANGE COUNTY, CA)
BRUDERER HIGH-SPEED STAMPING TO 30 TON, MINSTER & MABU PUNCH PRESSES TO 100 TON, PRESS FEED EQUIPMENT, TOP EDM MACHINE, LAGUN FTV-4 VERTICAL MILL, FASTENER HARDWARE & RELATED ITEMS
HIGH-SPEED STAMPING PRESS
MINSTER MODEL PM2-30-30, 30 TON CAPACITY, 30″ X 20″ BOLSTER, 0-1,000 SPM, 1-1/4″ LENGTH OF STROKE, 1″ SLIDE ADJUSTMENT, 10″ SHUT HEIGHT ADJUSTMENT, DIPRO 1500 WINTRISS DIE PROTECTION, S/N PM2-30-23621
BRUDERER MODEL BSTA-60H, 60-TON, DIE PRO 1500 WINTRISS DIE PROTECTION, 4 POST, 800 SPM, S/N 6238
(2) BRUDERER MODEL BSTA 25, 25 TON CAPACITY, 21.26″ X 20.8″ BOLSTER, 100-1,500 SPM, S/N'S 3828, N/A
PUNCH PRESSES
MINSTER MODEL 6 OBI, 60 TON CAPACITY, 45 SPM, 6″ STOKE, 3″ SLIDE ADJUSTMENT, WINTRISS LIGHT CURTAIN, CUSHION, S/N 6-12861
MABU MODEL VS250/RC11/VG, DOUBLE COLUMN, 25 TON CAPACITY,
15″ X 15″ BOLSTER, 100-1,000 SPM, S/N 320-PRI-MABU-11805-00
L & J #18 PUNCH PRESS
PUNCH PRESS SUPPORT EQUIPMENT
PERFECTO STRAIGHTENER, MODEL 28-12-9, 100 FPM, MATERIAL MAX-MIN STOCK THICKNESS: .160-.140, S/N S2-84122
COILMATE PALLET DECOILER, MODEL CM6048, ROTATING PLATFORM, 4′ X 4′, 6,000 LB CAPACITY, S/N 4153
PRESSTRONICS COIL REEL, MODEL LOWBOY, S/N 3901-08
FOUR SLIDE MACHINE
PAC FAB, S/N 0070
PHONE SYSTEM
MITEL SX-2000 LIGHT PBX PHONE SYSTEM 7' COMPONENT RACK CONTAINING: (8) LEVITON TELCOM PANELS, HP PROCURVE SWITCH, MITEL 3300 MXE, (2) DELL POWERCONNECT 2748, (2) DELL POWERCONNECT 5424, (2) DELL POWERCONNECT 2724, APC SURGE ARREST, (2) MGE ESPRIT 3.7 UPS SYSTEM, (2) CYBERPOWER 825 VA UPS, (6) UB 1280 UNIVERSAL BATTERIES, NEW, ALPHA MICROSYSTEMS 1400 SERIES ON-LINE UPS, (2) DIGITAL CLOCKS, TRU-SPEC MODEL CA-20/860 CA-TV DISTRIBUTION AMPLIFIER, TRIPP-LITE INTERNET OFFICE UPS
MACHINE SHOP EQUIPMENT & RELATED ITEMS
2006 TOP EDM MODEL TSH-5AA, S/N MS-0610DTA
LAGUN FTV-4 VERTICAL MILL, 10" X 50" TABLE
SEEDORFF 150 KVA SPOT WELDER, MODEL 8150-F, S/B 11104
ATALS COPCO GA 37-125 SCREW TYPE AIR COMPRESSOR, 50 HP, S/N HOL022727
GLOBE 51″ X 98″ PLATFORM LIFT, MODEL TXLIFT, 4,000 LB CAPACITY, S/N 33TX90103
BIG JOE ELECTRIC LIFT, MODEL PDC-20-154, 2,000 LB CAPACITY, ELECTRIC CHARGER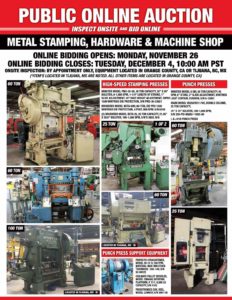 TERMS:
BANK WIRE TRANSFER ONLY. FULL PAYMENT MUST BE MADE NO LATER THAN 24 HOURS OF WINNING BID
BUYER'S PREMIUM:
18% FOR ALL ONLINE PURCHASES
REMOVAL:
NO LATER THAN WEDNESDAY, DECEMBER 12. NO EXCEPTIONS.  PREPPING, LOADING & TRUCKING IS THE RESPONSIBILITY OF THE BUYER.
UNITED ASSET SALES IS A FULL SERVICE, NATIONWIDE LIQUIDATION AUCTION AND ASSET ADVISORY COMPANY. FOUNDED BY ROY GAMITYAN, WE OFFER OVER 30 YEARS OF EXPERTISE IN THE REALM OF INDUSTRIAL MACHINERY AUCTION SALES ACROSS ALL MANUFACTURING SECTORS. WE OFFER OUTRIGHT CASH BUYOUTS, MINIMUM GUARANTEE AND COMMISSION PROPOSALS FOR YOUR CONSIDERATION.
CALL US TODAY FOR A FREE CONSULTATION AND SITE VISIT!