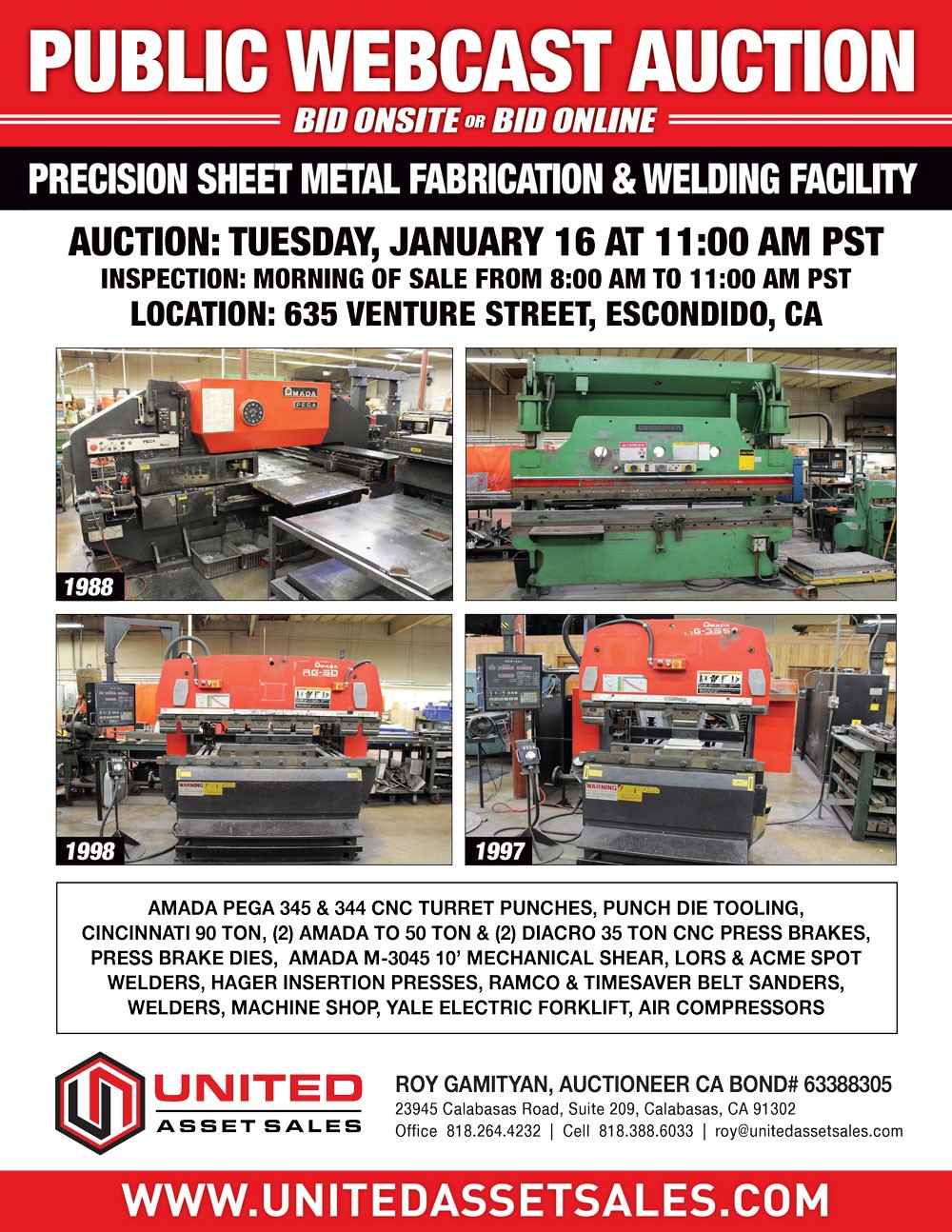 TUESDAY, JANUARY 16 | 11:00 AM PST
PUBLIC ONSITE WEBCAST AUCTION
PRECISION SHEET METAL FABRICATION & WELDING FACILITY
INSPECTION:

MORNING OF SALE FROM 8:00 AM TO 11:00 AM PST
LOCATION: 635 VENTURE STREET, ESCONDIDO, CA
AMADA PEGA 345 & 344 CNC TURRET PUNCHES, PUNCH DIE TOOLING, CINCINNATI 90 TON, (2) AMADA TO 50 TON & (2) DIACRO 35 TON CNC PRESS BRAKES, PRESS BRAKE DIES, AMADA M-3045 10' MECHANICAL SHEAR, LORS & ACME SPOT WELDERS, HAGER INSERTION PRESSES, RAMCO & TIMESAVER BELT SANDERS, WELDERS, MACHINE SHOP, YALE ELECTRIC FORKLIFT, AIR COMPRESSORS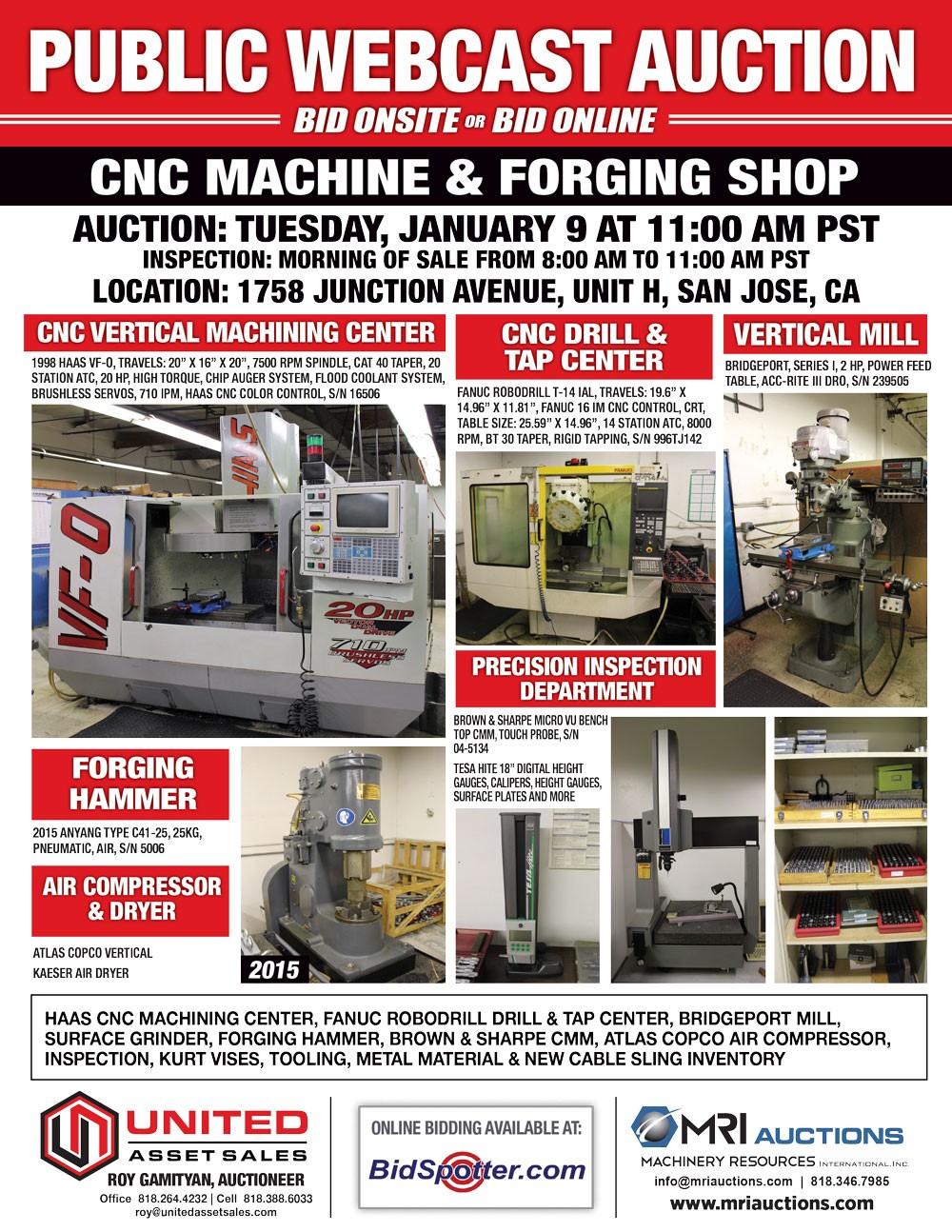 TUESDAY, JANUARY 9 | 11:00 AM PST
PUBLIC ONSITE WEBCAST AUCTION
CNC MACHINE & FORGING SHOP
INSPECTION: 

MORNING OF SALE FROM 8:00 AM TO 11:00 AM PST
LOCATION: 

1758 JUNCTION AVENUE, UNIT H, SAN JOSE, CA
HAAS CNC MACHINING CENTER, FANUC ROBODRILL DRILL & TAP CENTER, BRIDGEPORT MILL, SURFACE GRINDER, FORGING HAMMER, BROWN & SHARPE CMM, ATLAS COPCO AIR COMPRESSOR, INSPECTION, KURT VISES, TOOLING, METAL MATERIAL & NEW CABLE SLING INVENTORY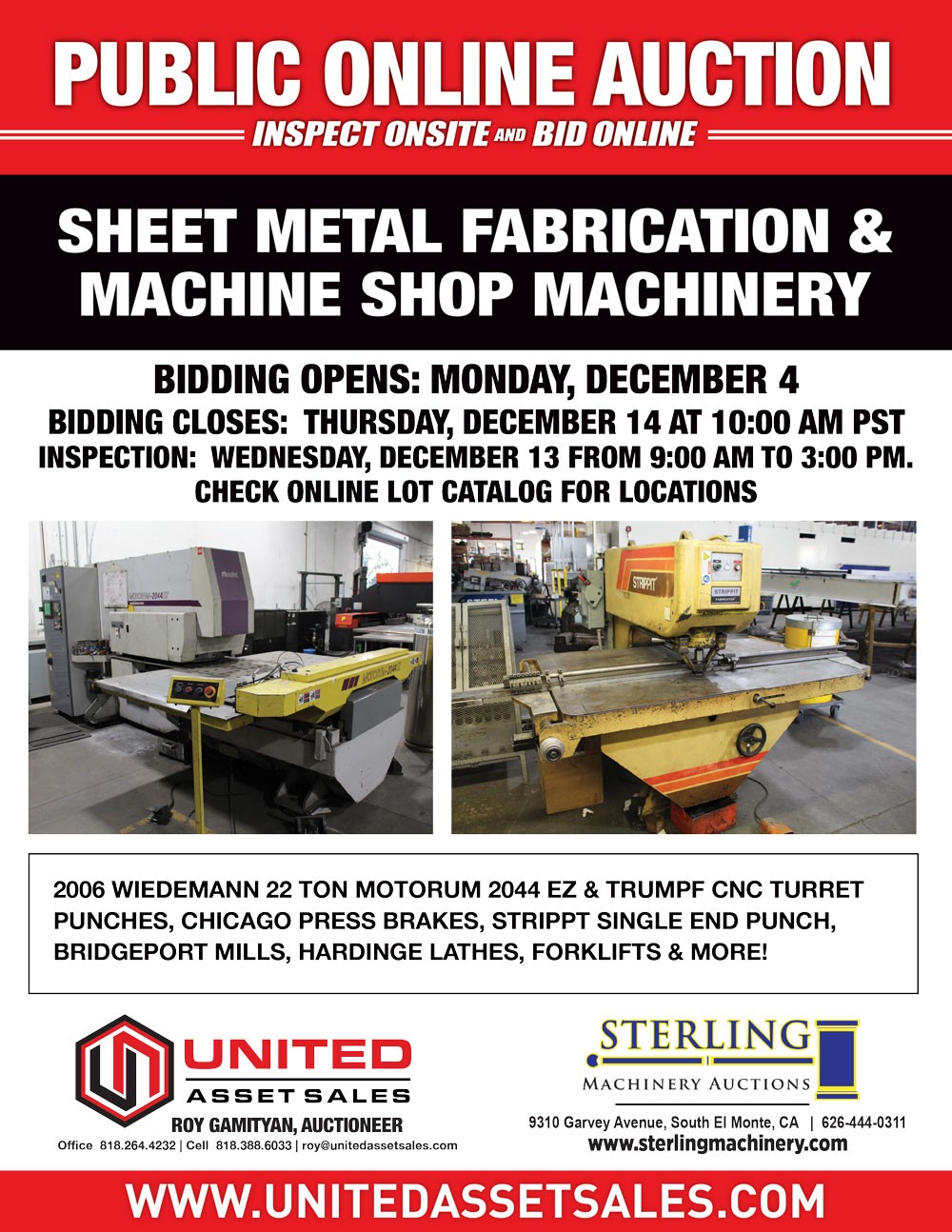 THURSDAY, DECEMBER 14 | 10:00 AM PST
PUBLIC ONLINE AUCTION
SHEET METAL FABRICATION & MACHINE SHOP MACHINERY
BIDDING OPENS: MONDAY, DECEMBER 4
BIDDING CLOSES: THURSDAY, DECEMBER 14 AT 10:00 AM PST 
INSPECTION: 

WEDNESDAY, DECEMBER 13 FROM 9:00 AM TO 3:00 PM. CHECK ONLINE LOT CATALOG FOR LOCATIONS
SHEET METAL FABRICATION & MACHINE SHOP MACHINERY – WINTER NATIONAL CONSIGNMENTS OF MACHINE SHOP & FABRICATION EQUIPMENT
2006 WIEDEMANN 22 TON MOTORUM 2044 EZ & TRUMPF CNC TURRET PUNCHES, CHICAGO PRESS BRAKES, STRIPPT SINGLE END PUNCH, BRIDGEPORT MILLS, HARDINGE LATHES, FORKLIFTS & MORE!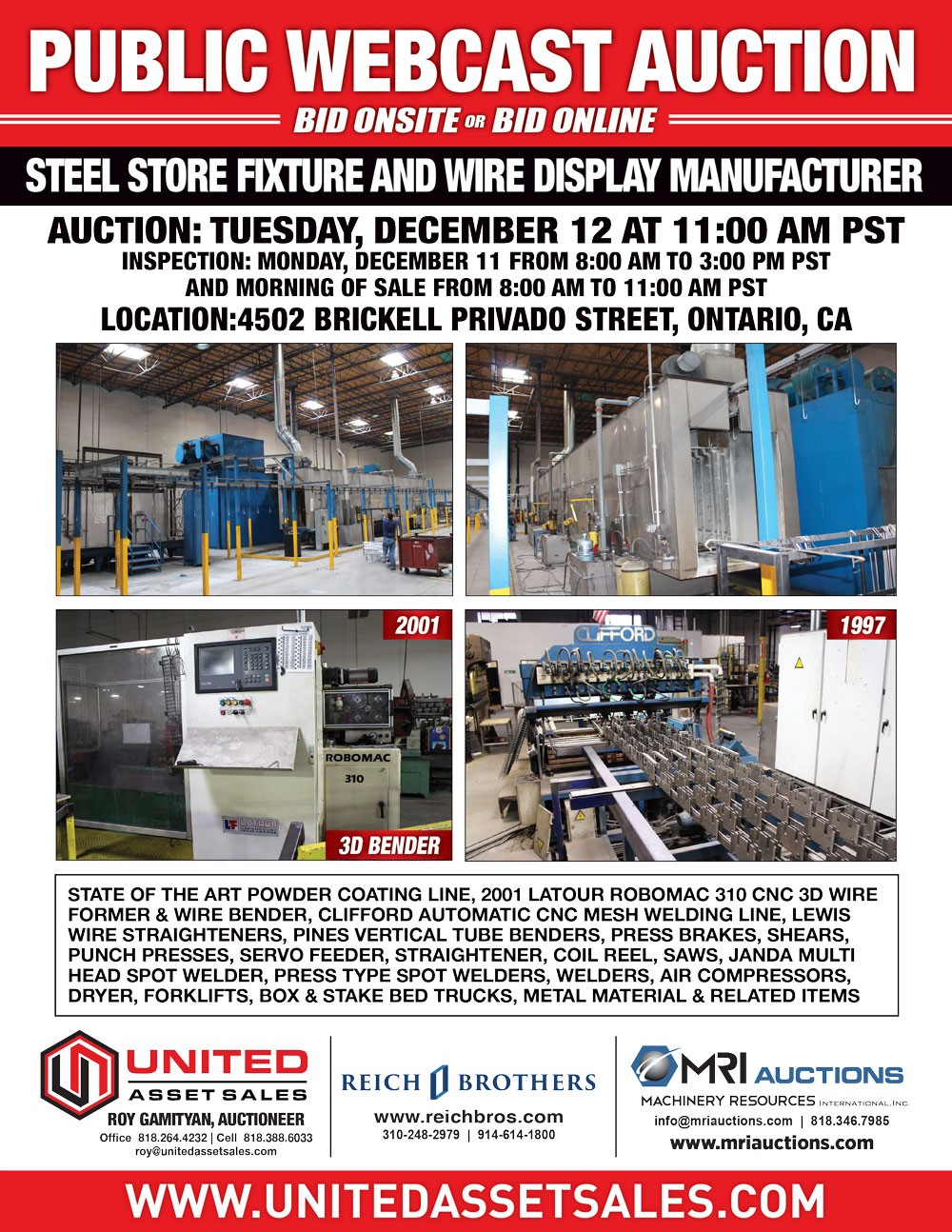 TUESDAY, DECEMBER 12 | 11:00 AM PST
PUBLIC ONSITE WEBCAST AUCTION
STEEL STORE FIXTURE AND WIRE DISPLAY MANUFACTURER
INSPECTION: MONDAY, DECEMBER 11 FROM 8:00 AM TO 3:00 PM PST AND MORNING OF SALE FROM 8:00 AM TO 11:00 AM PST
LOCATION: 

4502 BRICKELL PRIVADO STREET, ONTARIO, CA
STATE OF THE ART POWDER COATING LINE, 2001 LATOUR ROBOMAC 310 CNC 3D WIRE FORMER & WIRE BENDER, CLIFFORD AUTOMATIC CNC MESH WELDING LINE, LEWIS WIRE STRAIGHTENERS, PINES VERTICAL TUBE BENDERS, PRESS BRAKES, SHEARS, PUNCH PRESSES, SERVO FEEDER, STRAIGHTENER, COIL REEL, SAWS, JANDA MULTI HEAD SPOT WELDER, PRESS TYPE SPOT WELDERS, WELDERS, AIR COMPRESSORS, DRYER, FORKLIFTS, BOX & STAKE BED TRUCKS, METAL MATERIAL & RELATED ITEMS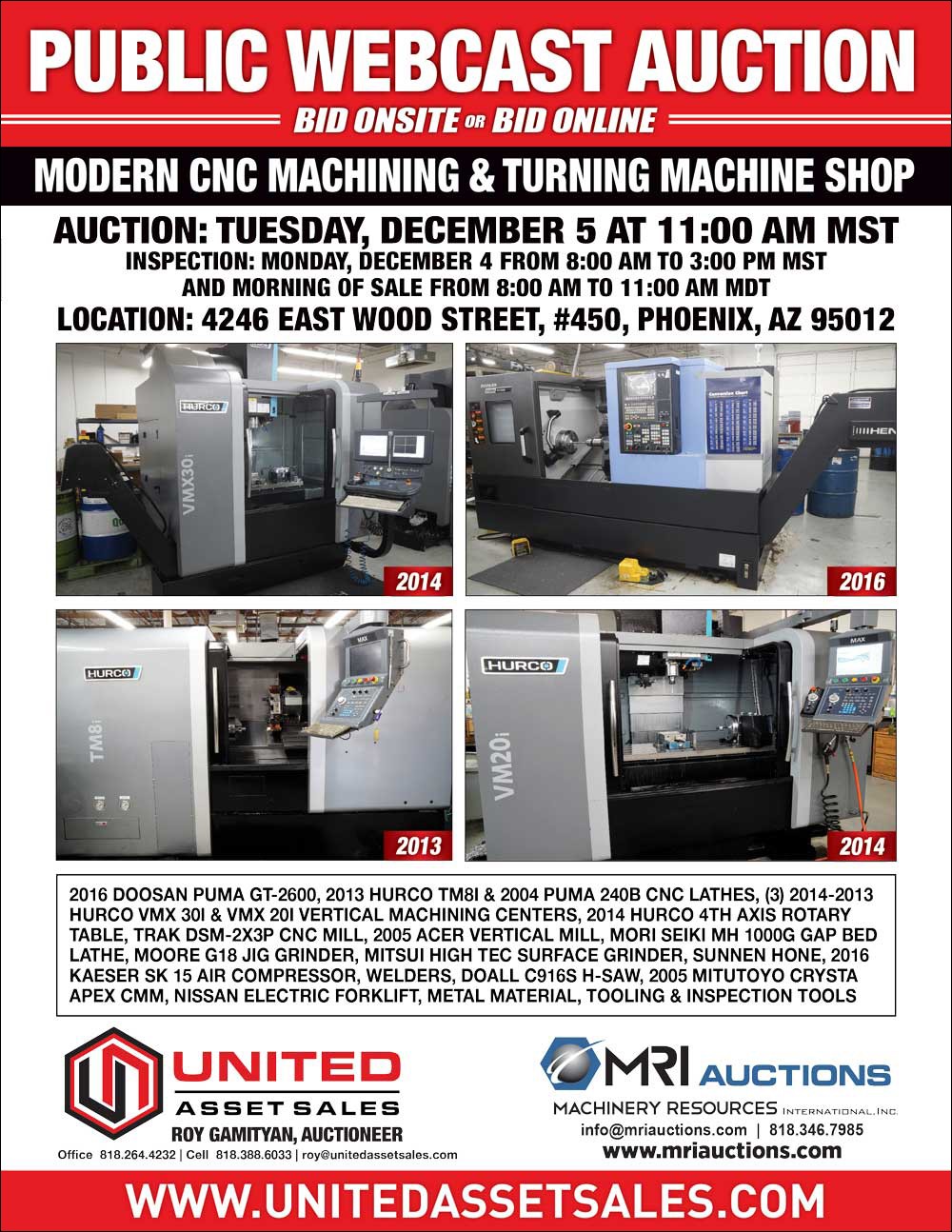 TUESDAY, DECEMBER 5 | 11:00 AM MST
PUBLIC ONSITE WEBCAST AUCTION
MODERN CNC MACHINING & TURNING SHOP
INSPECTION: 

MONDAY, DECEMBER 4 FROM 8:00 AM TO 3:00 PM MST 

AND MORNING OF SALE FROM 8:00 AM TO 11:00 AM MDT
LOCATION: 4246 EAST WOOD STREET, #450, PHOENIX, AZ 95012
2016 DOOSAN PUMA GT-2600, 2013 HURCO TM8I & 2004 PUMA 240B CNC LATHES, (3) 2014-2013 HURCO VMX 30I & VMX 20I VERTICAL MACHINING CENTERS, 2014 HURCO 4TH AXIS ROTARY TABLE, TRAK DSM-2X3P CNC MILL, 2005 ACER VERTICAL MILL, MORI SEIKI MH 1000G GAP BED LATHE, MOORE G18 JIG GRINDER, MITSUI HIGH TEC SURFACE GRINDER, SUNNEN HONE, 2016 KAESER SK 15 AIR COMPRESSOR, WELDERS, DOALL C916S H-SAW, 2005 MITUTOYO CRYSTA APEX CMM, NISSAN ELECTRIC FORKLIFT, METAL MATERIAL, TOOLING & INSPECTION TOOLS
UNITED ASSET SALES IS A FULL SERVICE, NATIONWIDE LIQUIDATION AUCTION AND ASSET ADVISORY COMPANY. FOUNDED BY ROY GAMITYAN, WE OFFER OVER 30 YEARS OF EXPERTISE IN THE REALM OF INDUSTRIAL MACHINERY AUCTION SALES ACROSS ALL MANUFACTURING SECTORS. WE OFFER OUTRIGHT CASH BUYOUTS, MINIMUM GUARANTEE AND COMMISSION PROPOSALS FOR YOUR CONSIDERATION.
CALL US TODAY FOR A FREE CONSULTATION AND SITE VISIT!